Print This Post
When the sun's out, the last thing you want to do is spend hours near a hot stove. Personally, I'd rather be sipping lemonade by the pool. My meals can just make themselves, thanks!
Problem is, food cannot actually make itself into something resembling a meal. No matter how lazy I admittedly am, I'm going to have to put just a tiny bit of effort forth. And when that sun is shining, believe me – it's the tiniest bit of effort possible. Cheerio-sized effort.
If you think you're possibly the laziest girl on earth and there's no way you'd ever make time to cook, these Southern recipes might change your mind. Southern flavors = summer flavors, and if it's quick and effortless, why not treat yourself to something tasty?
Lazy girls, let me lead you to the light, because there are wonderful recipes out there just for us! FaveSouthernRecipes.com has so many lazy, lazy southern recipes perfect for chowing down poolside. You'll barely need to move from your chair! (Okay, that's exaggerating a bit, but I'm too lazy to say it another way.)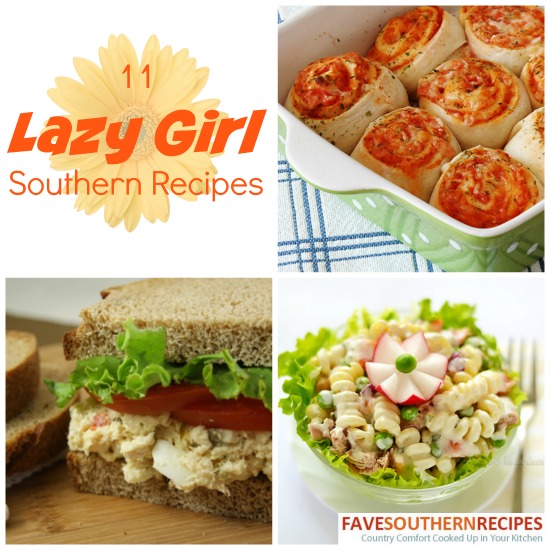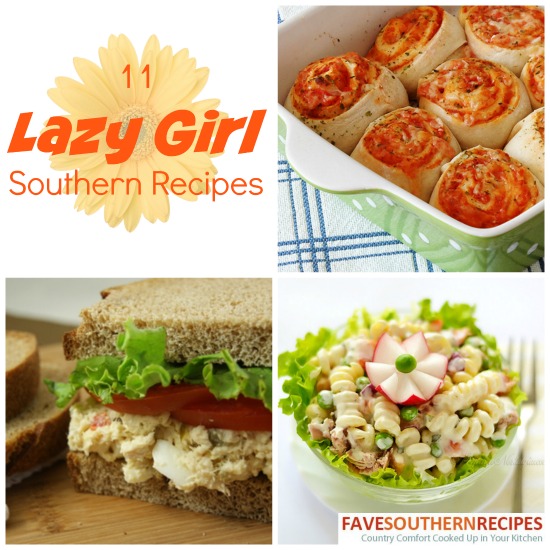 11 Lazy Girl Southern Recipes
Get set for your lazy life with our Lazy Girl Weekly Meal Plan.
What's your favorite lazy day recipe?
FaveSouthernRecipes is dedicated to the best easy Southern recipes and cooking tips. From quick and easy dinner recipes to new and exciting dessert recipes, we find and deliver the best Southern recipes from all over the web. Plus, we feature free product reviews and giveaways of all the latest and greatest products including cooking gadgets, cookbooks, food, and more. FaveSouthernRecipes is a wonderful online resource for cooks of all skill levels.
Latest posts by FaveSouthernRecipes (see all)
Print This Post