Print This Post
You may have heard that Hostess — maker of the famous and much beloved Twinkies, Ding Dongs and Ho Hos — filed for bankruptcy late last week.  Since the news first broke, people have been swarming grocery stores and supermarkets, even Hostess outlet stores, looking to stock up on their favorite treats.  With the devastating news of Hostess' closure, it has become more than apparent how much people love these nostalgic treats.
If you haven't gotten a chance to claim your share of the last boxes of Hostess desserts ever produced, don't panic.  We here at RecipeLion and AllFreeCopycatRecipes know how passionate folks are about these treats which have been a childhood staple for generations.  That's why we've taken it upon ourselves to find recipes for homemade versions of the most loved Hostess treats.  Just because the factory is closing doesn't mean you have to go without your favorite cream-filled sweets — whether they're Ding Dongs, Ho Hos, or Twinkies.  Keep reading to find copycat recipes for those classic Hostess desserts you just can't live without.
Homemade Twinkie Recipe:
Perhaps the most iconic of all Hostess treats, the Twinkie might be the biggest loss to mankind with the closure of Hostess.  Luckily these yellow, log-shaped treats are actually pretty simple to make, especially when you have an easy copycat Twinkie recipe like this one from Hilah Cooking.  They might not have the supernatural shelf-life of the original Twinkies, but they taste just as good!
Homemade Hostess Cupcakes Recipe:
With that iconic white swirl-doodle on top, there's no mistaking an original Hostess cupcake.  While this homemade version from What Megan's Making might not look exactly the same as the kind you'd find in the box, it sure does taste like the cupcake you know and love.
Homemade Ding Dong Recipe:
Ding Dongs are great because they have one of the funniest names of all the Hostess goodies.  Plus they're absolutely delicious, what with that fluffy cream center and rich chocolate cake exterior.  Follow this recipe from Beantown Baker to learn how to make your own Ding Dongs from scratch.  It's a really neat technique where you cut smaller cakes out of a larger cake.  Fun!
Homemade Hostess Sno Balls Recipe:
One of the more under-appreciated Hostess snacks (at least in my opinion) is the Sno Ball.  These fluffy mounds were the most playful of all the Hostess treats, and I love that they came in a fun pink color to boot!  If you're a Sno Ball guy or gal, don't worry… I've found a copycat recipe for these wonderful treats just for you.  Enjoy!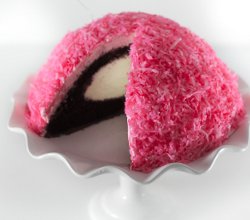 Homemade Ho Ho Recipe:
Ho Hos always reminded me of Twinkie's chocolate cousin.  These cylindrical chocolate cakes feature a fun swirl of cream inside.  As a kid I always loved biting into one and examining the pretty pinwheel hidden inside.  I'm so glad that I found this copycat Ho Ho recipe so I can continue to be amazed by these wonderful cake-y treats!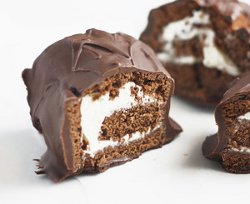 Tell us: Which was YOUR favorite Hostess treat?
RecipeLion is dedicated to the best recipes and cooking tips. From quick and easy dinner recipes to new and exciting dessert recipes, we find and deliver the best recipes from all over the web. Plus, we feature free product reviews and giveaways of all the latest and greatest products including cooking gadgets, cookbooks, food, and more. RecipeLion is a wonderful online resource for cooks of all skill levels.
Latest posts by RecipeLion (see all)
Print This Post