Print This Post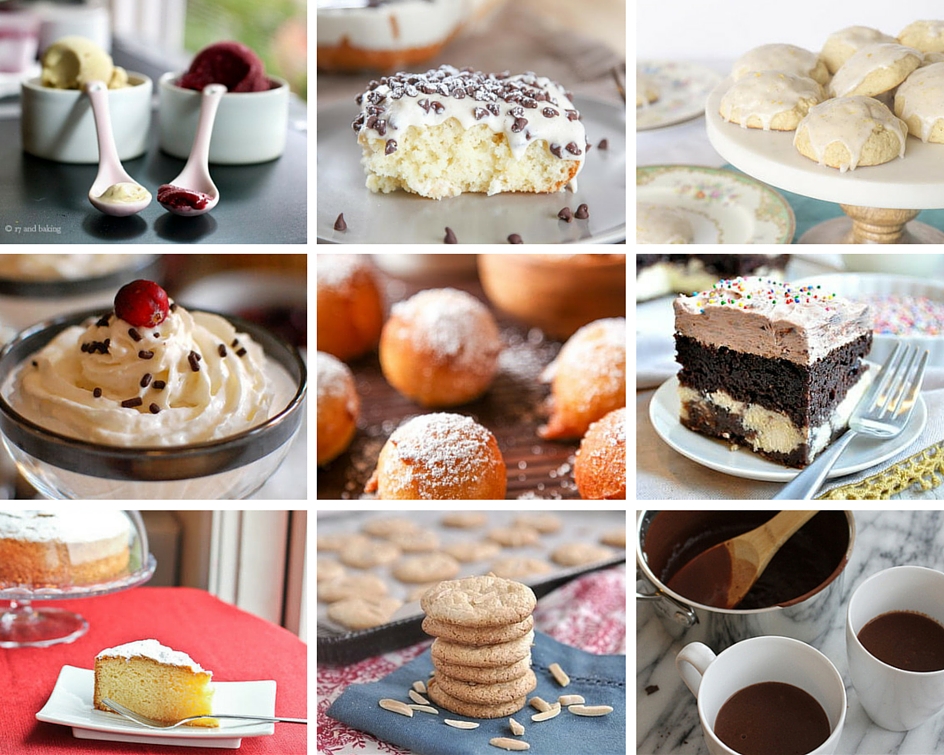 When you get the craving for a taste of Italian desserts, you know that no other sweet will do. From that cool, creamy gelato, to the rich taste of cannoli, nobody makes desserts like the Italians. This list of Italian pastries and desserts will help soothe that yearning for the beautiful (and sweet) country of Italy.
While you may not be able to take a trip to the Italian countryside or the Eternal City anytime soon, these easy Italian desserts will make you feel like you just stepped out of a quaint bakery and into the cobblestone streets. Yet be warned: regular ice cream recipes and cookie recipes won't cut it anymore. Perhaps the best thing you can do before summer comes to a close is make a couple Italian sweets to share with your loved ones.
Next time you feel a yearning to travel or just try something new, turn to this list. These recipes are perfect for family gatherings, and if you're lucky enough to have some Italian in your blood, you will appreciate these desserts even more. Buon appetito!
9 Italian Dessert Recipes That Will Transport You to Rome
Pistachio Gelato Recipe – If you have always loved your parents' homemade gelato, then you're in luck. No matter how long it's been since you've last tasted some, you can recreate their special treat with this Pistachio Gelato Recipe.
Cannoli Cake with Cannoli Cream Frosting – Moist, melt-in-your-mouth cake topped with a decadent cannoli cream frosting. Your favorite Italian dessert in cake form!
Vanilla Bean Ricotta Cookies – This ricotta cookie recipe is so moist that you will think that you accidentally made cake. Your whole family will enjoy the sweetness of this ricotta cookies recipe, and they won't even realize that it's made with delicious ricotta cheese.
Frozen Cranberry Cannoli Cups – Eight ingredients to make these frozen goodies worthy of your party or potluck table! Make room in your freezer because this is a great make-ahead dessert.
Zeppole Italian Doughnuts – Crispy on the outside, yet light and fluffy on the inside, these mini Italian doughnut holes will become your new favorite breakfast treat. Best of all, they take less than twenty minutes; can you guess what secret ingredient makes them so irresistible?
Chocolate Italian Love Cake – With help from a cake mix, even your kids can make this Chocolate Italian Love Cake! It's a simple yet impressive dessert that everyone loves!
Italian Paradise Cake – With its light and airy texture, this Italian Paradise Cake (or Torta Paradiso, in Italian) will make you feel like you're on cloud nine. Hints of vanilla extract and lemon zest give this Italian cake a refreshing fragrance and flavor that differs from heavier, richer desserts.
Easy Italian Almond Cookies – Do you need more mouth-watering cookies for your potluck platter? With a crispy outside and a chewy center, these Easy Italian Almond Cookies will be the star of your next party.
Dreamy Creamy Italian Hot Chocolate – If you think Italian hot chocolate is the same as that powdered hot chocolate, think again. More chocolate than milk, this Dreamy Creamy Italian Hot Chocolate is a heavenly pick-me-up for gloomy days.
For more Italian dessert recipes, be sure to check out this list of 19 Incredible Italian Desserts.
What are some of your favorite Italian treats? Let us know in the comments!
TheBestDessertRecipes is dedicated to the best dessert recipes and baking tips. From easy cookie recipes to recipes with cake mix, we find and deliver the best desserts from all over the web. Plus, we feature free product reviews and giveaways of all the latest and greatest products including baking gadgets, cookbooks, food, and more. TheBestDessertRecipes is a wonderful online resource for bakers and dessert enthusiasts of all skill levels.
Latest posts by TheBestDessertRecipes (see all)
Print This Post