Print This Post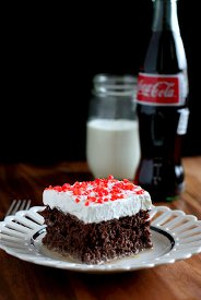 Sure, we all love to drink Dr. Pepper, Coca-Cola and other soft drinks, but have you ever cooked or baked with them? Who knows who first decided to pour some 7-Up into their biscuits – perhaps it was a happy accident, or maybe someone was playing a prank. Whatever it was, boy am I happy it was discovered.
In these dishes made with soft drinks, often the soda adds flavor and desired consistency to the recipe. Chocolate cake mix cake made with Coke is amazingly moist and super easy. Adding Dr. Pepper to pork recipes also adds a little bit of sweetness to the dish, in such a good way.
I know we all love to crack open a can of cola when we hit that 3 o'clock slump or when we're craving something fizzy and refreshing. But with these easy recipes, you can eat your soft drink (or, as I like to call it, pop).
Don't worry, you're not going to get the nose tingling feeling of carbonation when you bite into a root beer float cookie. Instead, you're going to get the creamy, root beer flavor of your favorite childhood dessert in a delicious cookie.
I know you'll love these recipes so much that when you go to pull a can of pop out of the fridge next, you'll be dreaming of perfectly marinated chicken or blondie bars made with ginger ale.
8 Dishes Made with Soft Drinks
Savory Recipes
Slow Cooker BBQ Pulled Pork & Braised Country Style Pork Ribs
 Cafe Rio Copycat Shredded Pork Salad & Easy 7-Up Marinade
Sweet Recipes
Grape Soda Pop Cupcakes & Ginger Ale Blondies
Root Beer Float Cookies & Dr. Pepper Chocolate Sauce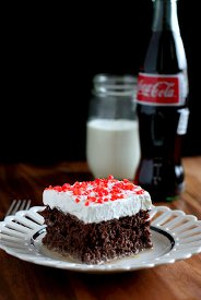 What's your favorite recipe to make with soda?
RecipeLion is dedicated to the best recipes and cooking tips. From quick and easy dinner recipes to new and exciting dessert recipes, we find and deliver the best recipes from all over the web. Plus, we feature free product reviews and giveaways of all the latest and greatest products including cooking gadgets, cookbooks, food, and more. RecipeLion is a wonderful online resource for cooks of all skill levels.
Latest posts by RecipeLion (see all)
Print This Post