Print This Post
That enormous holiday at the end of November is almost upon us. It is time to start putting together your Thanksgiving menu. If you want to do things a little differently this year, you can think about making some or most of your dishes in your slow cooker. There is a recipe for virtually every classic dish that your family has come to expect on their holiday table. Your slow cooker is a great option for cooking as you can cook several of your dishes ahead of time, and even have them cooking while you are at work, freeze them when they are finished and warm them up just before Thanksgiving dinner.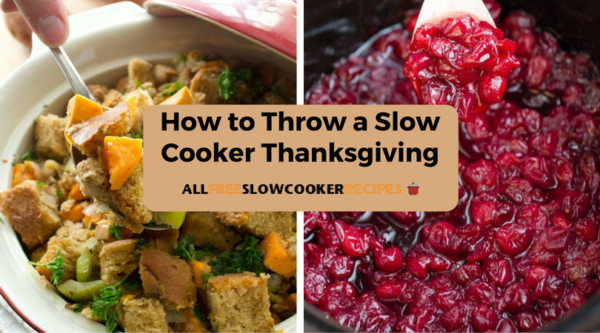 How to Throw a Slow
Cooker Thanksgiving
Slow cooker Thanksgiving recipes certainly make for less stress in your kitchen on the holiday. It is hard to have five dishes in the oven cooking at once, not to mention the fact that much of the day on Thanksgiving your turkey is taking up that valuable oven space. Using another cooking method is surely the way to go, to help get everything made in an orderly fashion. We are sharing some of our favorite Thanksgiving slow cooker recipes. You can also check out "A Full Thanksgiving in Your Slow Cooker" for some helpful tips (and recipes) on putting your meal together with the help of your slow cooker.
Thanksgiving Recipes
Slow Cooker Herb Turkey and Gravy
Honestly Easy Slow Cooker Turkey Breast
Slow Cooker Apple, Sausage, and Sage Stuffing
Slow Cooker Sweet Potato Stuffing
Slow Cooker Apple Raspberry Cranberry Sauce
Festive Homemade Slow Cooker Cranberry Sauce
Life-Changing Slow Cooker Mashed Potatoes
Classic Pumpkin Pie in the Slow Cooker
Craveable Crustless Pumpkin Pie
What are your favorite Thanksgiving recipes? Share them with us in the comments below.
AllFreeSlowCookerRecipes is dedicated to the best slow cooker recipes and cooking tips. From easy slow cooker dinner recipes to slow cooker dessert recipes with cake mix, we find and deliver the best slow cooker recipes from all over the web. Plus, we feature free product reviews and giveaways of all the latest and greatest products including slow cookers, cookware and cooking gadgets of all sorts, cookbooks, food, and more. AllFreeSlowCookerRecipes is a wonderful online resource for cooking enthusiasts of all skill levels.
Latest posts by AllFreeSlowCookerRecipes (see all)
Print This Post