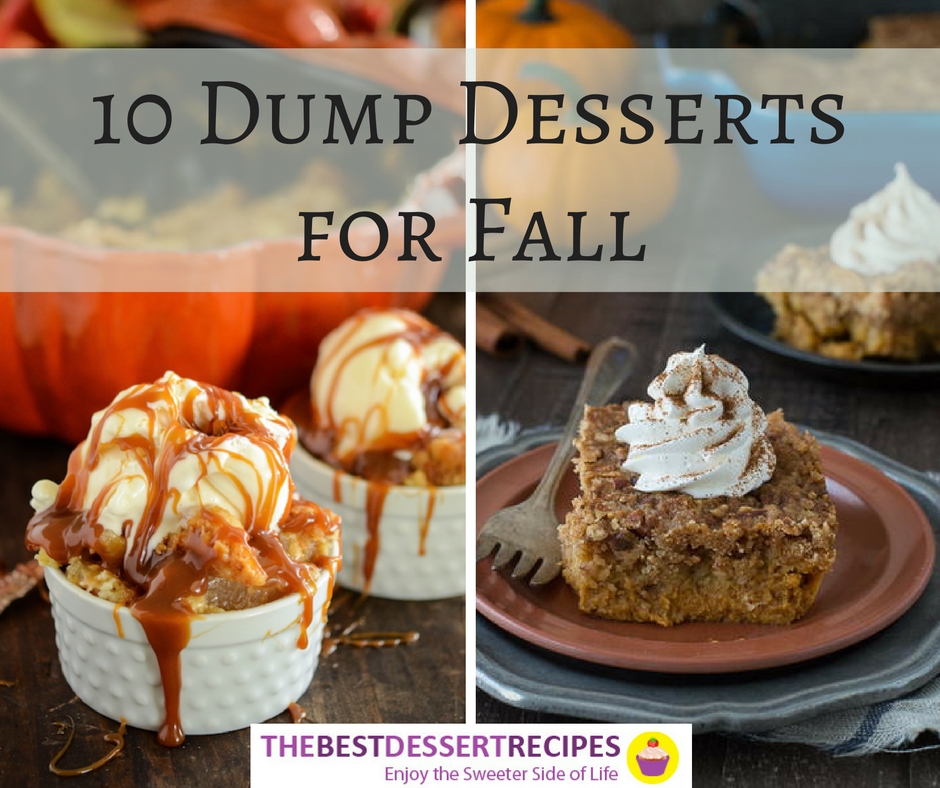 We've all had those days where we're just too lazy to actually bake something complicated. Who has the time? Not me. But I can't go without a little sweet treat every now and then. That's where these handy dandy dump-and-go recipes come in handy. Especially in the fall, when it starts to get colder outside, I get really lazy about baking, but my sweet tooth doesn't quit. That's where dump desserts come in!
I have a secret for you: dump-and-go dessert recipes taste just as good as the fancier desserts like creme brulee or tiramisu. With these delectable dump dessert dishes, all you have to do is throw the ingredients together, bake it, and it's ready to go. (With a generous helping of ice cream, of course.) These 10 Dump Desserts for Fall will help you get through those weekends when your stomach says it wants something delicious, but you're just too lazy to make a dessert that's more work than it's worth.
10 Dump Desserts for Fall
From the moment the leaves start changing colors, it seems like pumpkin desserts just start popping up everywhere. With this recipe for Incredibly Easy Pumpkin Dump Cake, you'll be on your way to getting your pumpkin fix in no time.
The thing I love the most about fall dump desserts is how comforting they are. If you're in search of a comfort food dessert that's just like mom used to make, then this recipe for Just Like Mom's Apple Dump Cake is perfect — even if your mom never made apple dump cake.
Break our your slow cookers, folks. This recipe is so easy to make, you'll hardly believe you did any work at all. This Heavenly Slow Cooker Dump Cake recipe really lives up to its name. It's best served when it's nice and warm, and it's full of fabulous fall flavor.
This cobbler is truly a miracle — both in taste and in how easy it is to make. No matter what the occasion is, I'm sure the 6-layer Miracle Cobbler will come in handy. Taste it for yourself and see how delicious it is. You'll be coming back to this recipe again and again.
Of all things pumpkin spice that emerge this time of year, this recipe for Spiced Pumpkin Dump Cake just might top all the rest. It's rich, it's pumpkiny, and it's so easy. But your friends and family will think you spent all day making a complicated cake!
This recipe for Wonderful Caramel Apple Dump Cake is the closest thing you can get to capturing the essence of fall in a pan. What makes this particular dump cake recipe so amazing is the caramel topping. It's rich, creamy, and it will blow you away.
Need something to bring to your next fall party? These Gooey Chewy Cake Mix Pretzel Bars are doubly easy because they also use a shortcut ingredient — cake mix. There's really no denying that the easier a dessert is, the better it tastes. So this one must taste out of this world!
Take your taste buds on a journey through fall with this Easy Cinnamon Apple Dump Cake. If you're a fan of desserts with apples instead of pumpkin in the fall, then you'll absolutely love this dump cake recipe. It uses cake mix, too, to make it extra easy.
This recipe for the "Best of fall" Pumpkin Apple Dump Cake is great because it blends together all the amazing flavors of fall into one irresistible cake. This dump cake is one of our most popular dessert recipes ever.
This dump cake is the fall dessert recipe to end all fall dessert recipes. It will make you house smell so amazing that your guests will be drooling before they even get a bite of it. You'll just have to easy this Mid-Autumn Caramel Apple Dump Cake to get the full experience.
What's your favorite dump dessert?
Latest posts by TheBestDessertRecipes
(see all)