SCENE: It's Saturday. You woke up, read a book in bed for a while, then enjoyed a slow cooker breakfast. You walked the dog, met a friend for a late lunch, and sat outside enjoying the sunshine for the afternoon. You did some chores and errands, too. Suddenly, it's dinnertime… where did the day go? What's for dinner? It's the weekend and you totally don't want to think about dinner. That's a problem for weeknights. So you turn to the best idea ever… dump dinner recipes!
Good thing you have this handy list of dump dinners from RecipeLion.com. What would you ever do without it? Thank goodness for those sharp editors, creating lists of the best blogger recipes from all over the internet. Man oh man, they have the best quick dinner ideas.
Better hurry, that dazzling summer sunset in the backyard will be gone before you know it. You need to get out there with your plate of amazing food! Dump dinners to the rescue, yet again.
New to dump dinner recipes? Learn about this wonderful world of quick easy dinners that take barely any prep. We've long been fans, starting with our popular post on 9 Dump & Go Dinner Recipes.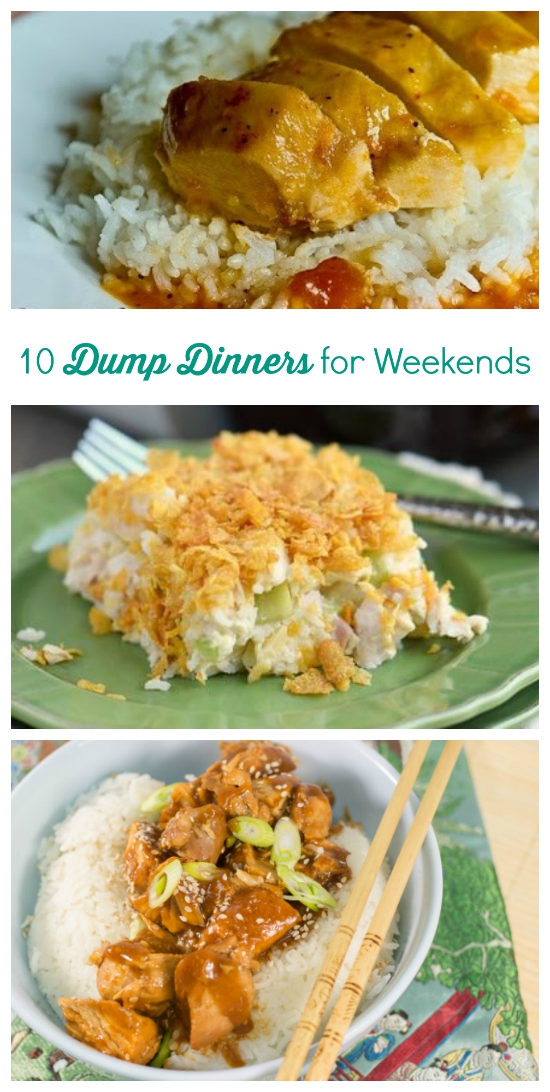 10 Dump Dinners for Weekends
Looking for even MORE easy dinner ideas?

You won't want to miss star chef Addie Gundry's cookbook Everyday Dinner Ideas: 103 Easy Recipes for Chicken, Pasta, and Other Dishes Everyone Will Love. This cookbook features clear, step-by step directions for 103 simply delicious recipes and includes beautiful photographs of each dish.  Learn how to make Addie Gundry's favorite weeknight meals like:
With plenty of one-pot meals, dinners ready in under half an hour, and innovative flavor combinations to spice up your go-to proteins, Everyday Dinner Ideas author Addie Gundry has the answers. Available for NOW on Amazon and at Barnes and Noble.
What is your favorite go-to dinner?
Latest posts by RecipeLion
(see all)