European cuisine lovers can enjoy many fabulous German recipes in a whole new way. Fans of bratwurst, potato salad, and German chocolate cake can make each of these dishes and more in, to your surprise, in a slow cooker. Already excited about the flavors that emanate from this country's cuisine? Just wait until you taste these dishes right out of a slow cooker. The rich and bold tastes will overcome you after your very first bite. Your slow cooker is able to heighten the flavors of your favorite dishes into a very gourmet taste that will excite your family and guests.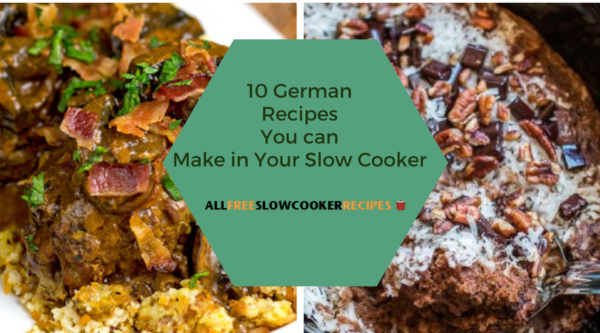 10 German Recipes You can Make in Your Slow Cooker
Different areas of this country are known for specific types of cultural food that natives cannot get enough of. In the area around Hamburg, people are known to fresh fish dishes, but in the many types of pork are the popular items to seek out. Citizens are known for eating bratwurst, currywurst, sauerbraten, and schnitzel among other delicacies. Spatzle is one the most well-known cultural dish. Outsiders expect the most popular dish to consist of meat, but astoundingly it is totally vegetarian dish.
Sauerbraten, which means sour or pickled, is actually a pot roast that is considered one of the country's national dishes. You can use a host of different types of meats to make it. For this recipe, you marinate your meat of choice in wine, vinegar, or various spices for more than a week.
Even if your family is not from this beautiful country they will be bowled over by the authentic tasting food you can create by just following one of our recipes. Check out our amazing offerings below and make one in your slow cooker this week!
10 German Recipes
German Style Stuffed Beef Rolls
Best Ever Beer Marinated Bratwurst Recipe
Slow Cooked Fudgy German Chocolate Cake
Slow Cooker Hot German Potato Salad Recipe
Slow Cooker German Chocolate Spoon Cake
What is your favorite German recipe? Tell us in the comments below.
Latest posts by AllFreeSlowCookerRecipes
(see all)