When you come home from church on Sundays or if you are having the family come over on an early Sunday evening you want to be able to feed them something special. Sundays are meaningful days and you want to be able to prepare some slow cooker church supper recipes that help bring true meaning to family. Some of these  slow cooker dishes exude comfort and warmth and some of them just scream traditional food values that we want to pass on to our family. We want to make a church supper sprinkled with love and affection. We want our family to know that we made this easy slow cooker dish with care in mind. We took the time and the energy because these are the people who mean so much to us.

10 Slow Cooker Church Suppers
Church suppers can also involve some nostalgia from past decades. Recipes from grandma sometimes come into play when we want to serve something that grandma and grandpa grew up eating and still truly adore. We want to give out a wide array of pleasure when we think about what is the right thing to serve to your diverse clan of family. There are certain recipes from each decade that different family members identify with and we try to make dishes that we know everyone will eat with joy. We are thrilled to share some of our collection of church supper recipes that will have your family asking for more. These are some of our absolute favorites to eat after church.
10 Church Supper Recipes:
Crunchy Chicken Noodle Comfort Casserole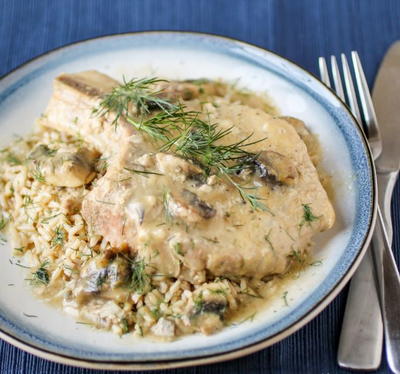 Hot and Heavenly Mushroom Pork Chops
Cheesy Scalloped Potatoes and Ham
Vintage Slow Cooker Chicken Paprika
Hearty Balsamic Beef Roast and Veggies
Looking to really impress at your next Church dinner? Then consider making this Scripture Cake Recipes, based on ingredients from the Bible.
What is your favorite Sunday Supper recipe? Tell us about it in the comments below.
Latest posts by AllFreeSlowCookerRecipes
(see all)