Whether you're taking time off from work for the holidays, you're home from school for Winter Break, or you're just enjoying some special quality time with your kids around Christmas, the best way to bond is with one of these 10 Super Easy Desserts for Winter Break. My grandma and I always made our best memories in the kitchen (usually making some kind of dessert.)
These recipes are as delicious as they are Christmas-y, and believe me, there are some really Christmas-y desserts here. You can even give some of them as edible gifts this holiday season. Just one batch of some Santa cupcakes, eggnog cake, or homemade gingerbread marshmallow fluff, and your whole house will smell like Christmas!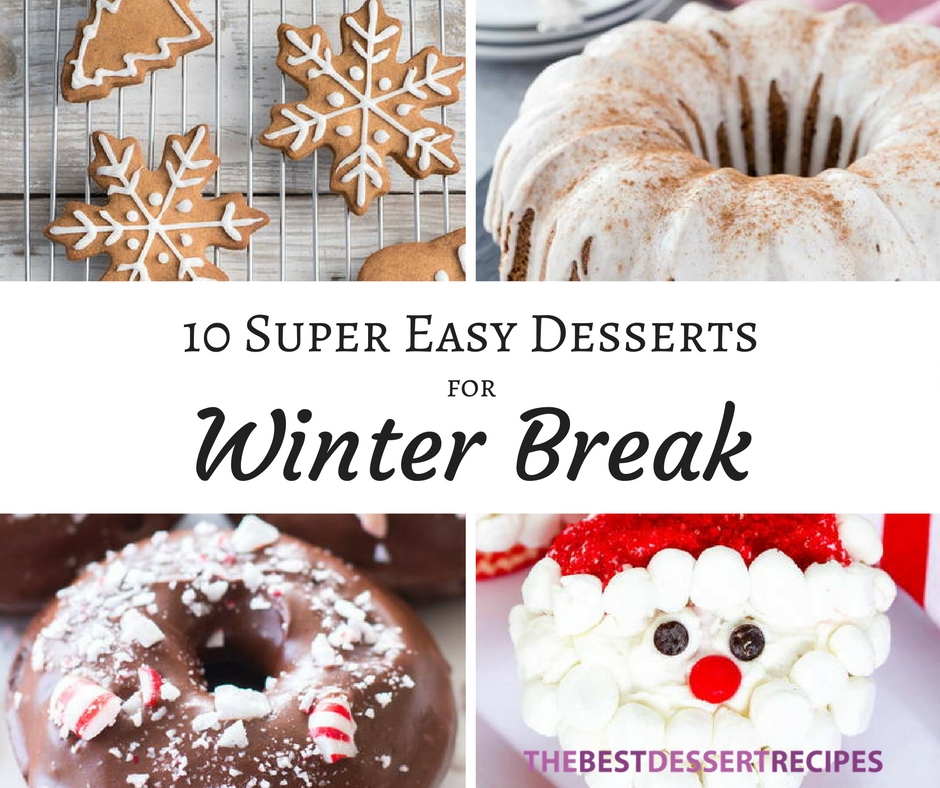 Take your cupcake game to the next level with this super simple recipe for Santa Cupcakes. Just make sure you don't eat all of the marshmallows before you make the beard like I'm sure I would do. For Christmas parties, festive occasions, or just because, these cupcakes will have you feeling in the Christmas mood.
It just wouldn't be Christmas without these Festive Gingerbread Cookies. Shape them into snowflakes or snow men or gingerbread men (duh). These are the perfect way to satisfy that sweet tooth while you're on winter break while still getting a little bit of Christmas cheer into your diet. I like to dip these in my coffee!
What's better than cake? Eggnog Cake! That's what. Break out your bundt pans this Winter Break, and you'll have a tasty, holiday-flavor-filled dessert before you know it. My favorite thing about this recipe is that glaze on top. It takes a lot of self control on my part for me to not just eat it with a spoon!
I can't honestly remember the last time I turned down a donut. This recipe for Peppermint Mocha Donuts is the best way to get into the Christmas spirit. These are a great way to use up those candy canes (that have been lying on the kitchen counter for way too long.) You should probably go ahead and make a double batch.
Do the holidays have you stressed? Working ahead for the holidays or cramming for finals? Reward yourself for all your hard work this Christmas season with these Peanut Butter Reindeer Cookies. They're super simple, and they're the perfect way to get your kids in the kitchen, cooking with you.
Of all the desserts for Winter Break that you could make, this recipe for Mrs. Claus' Christmas Cookie Fudge really stands out. Ripped straight from the pages of the recipe book of Mrs. Claus herself, this recipe is practically Christmas in fudge form. If I were you, I'd made a little bit extra for myself.
Feeling frosty? Warm up with these Frosty the Snowman Pretzels! These sweet and salty treats are one of my favorite snacks to make during the holidays. And the best part is that they only require five simple ingredients. Channel your inner child as you're decorating this no-bake dessert recipe, and you'll have a grand old time.
For the mason jar lover in your life (we all know one), these Mason Jar Monster Cookies are the perfect gift. They're super simple to throw together, and they're a great way to give a delicious edible gift without doing any of the baking yourself. Just throw the ingredients in the jar, add the instructions to the card, and tie it to the outside of the jar. You'll never have to worry about it going bad!
Yeah, you read that right. This homemade Gingerbread Marshmallow Fluff is the perfect thing to make for that friend who likes sugar a little bit too much. This amazing treat with a holiday twist is great to use as a topping for Christmas cookies or warm cupcakes. But let's be honest here: you're probably just going to eat it with a spoon.
And last but not least, we have this Ugly Sweater Eggnog Cake. What would the holidays be without an ugly sweater (besides cold)? If you're already wearing your ugly Christmas sweater, or you've been wearing it since June like me, this eggnog-infused cake is the only way to take your Christmas cheer to the next level.
What dessert will you make over winter break? Let us know below in the comments!
Latest posts by TheBestDessertRecipes
(see all)