For the 12 Days of Christmas, RecipeChatter is giving you… a chance to win a brand new free recipe and free cooking prize, every day! Look for the current day to enter. Winners are announced on the blog daily. Scroll down for the current day's giveaway. Good luck!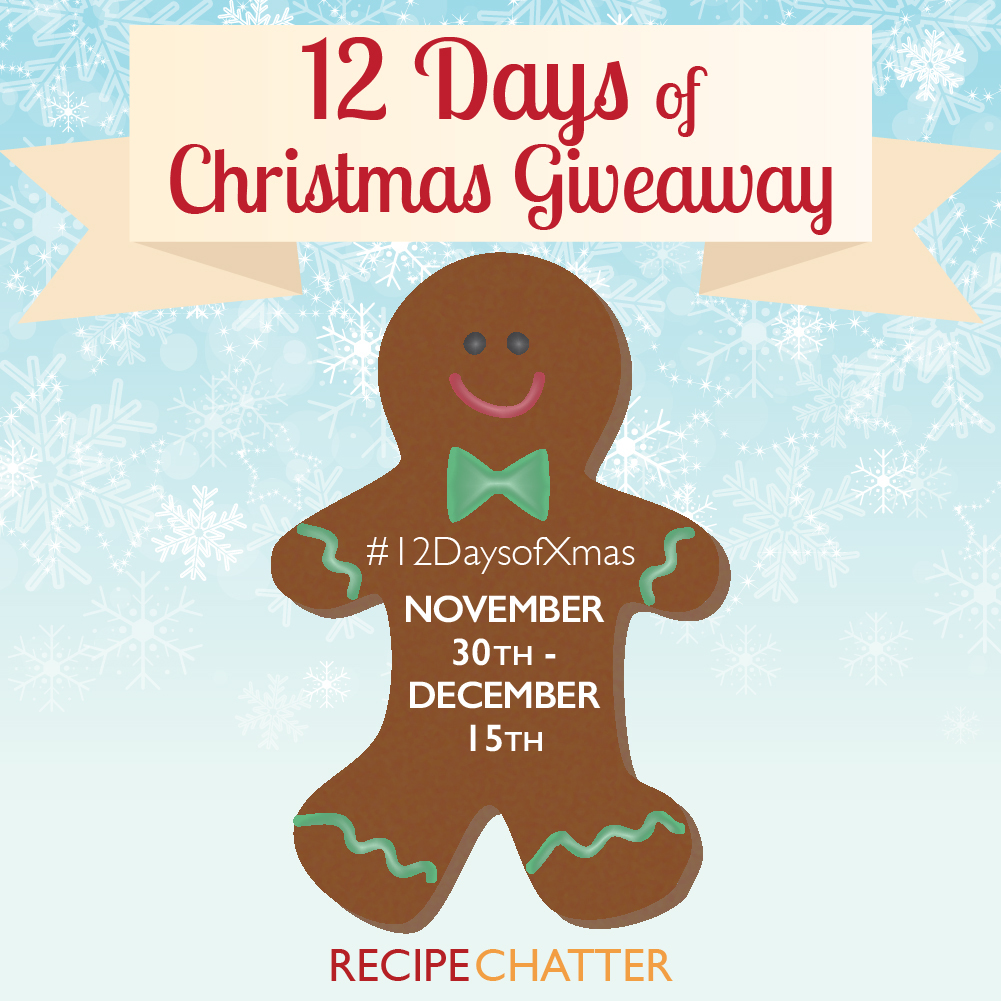 Bookmark this page and check the blog for daily updates about how to enter for each prize. Enter every day for more chances to win one of these festive, versatile prizes. Plus, you will have a chance to win a special GRAND PRIZE, consisting of every prize from each of the 12 days!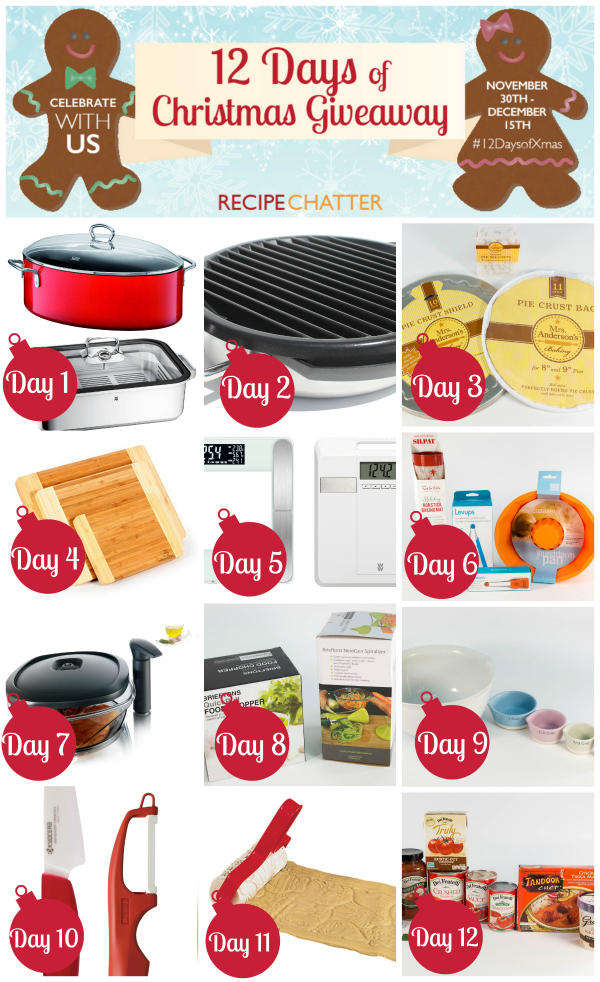 Below is the complete list of prizes from 12 fabulous brands!
Day 1 (Monday November 30): Vitalis Roasting Pan and Silit Roasting Pan

Sponsors: WMF Americas

Day 2 (Tuesday December 1): Stephen's Stovetop BBQ

Sponsors: Stephen's Stovetop BBQ

Day 3 (Wednesday December 2): Pie Baking Kit with Mrs. Anderson's Baking Easy No-Mess Pie Crust Maker Bag, Mrs. Anderson's Baking Ceramic Pie Weights, and Mrs. Anderson's Baking Pie Crust Shield, 9-Inch

Sponsors: Harold Import Company

Day 4 (Thursday December 3): Abundant Chef Cutting Board Set

Sponsors: Abundant Chef

Day 5 (Friday December 4): Weight Watchers® by Conair Scale Set

Sponsors: Conair

Day 6 (Monday December 7): Baking Set including Silpat Holiday Baking Mat, Dreamfarm Levups, Dreamfarm Levoons, Casabella Silicone Bundt Pan

Sponsors: Dreamfarm, Silpat and Casabella

Day 7 (Tuesday December 8): Vacu Vin Instant Marinator

Sponsors: Vacu Vin Co
Day 8 (Wednesday December 9): Brieftons Food Chopper and Veggie Spiralizer

Sponsors: Brieftons
Day 9 (Thursday December 10): TSP Mixing Bowl and Measuring Cups

Sponsors: Architec Products Co

Day 10 (Friday December 11): Kyocera Paring Knife and Peeler Set

Sponsors: Kyocera

Day 11 (Monday December 14): Christmas Cookie Roller

Sponsors: Gourmac

Day 12 (Tuesday December 15): Holiday Survival Gift Pack with Dei Fratelli Tomatoes and coupons for Graeter's Ice Cream and Tandoor Chef

Sponsors: Graeter's Ice Cream, Dei Fratelli, and Tandoor Chef

GRAND PRIZE
The Grand Prize winner will receive a complete collection of the prizes offered throughout the contest (shown below)! Information about how to enter for the grand prize can be found on any of the individual contest pages.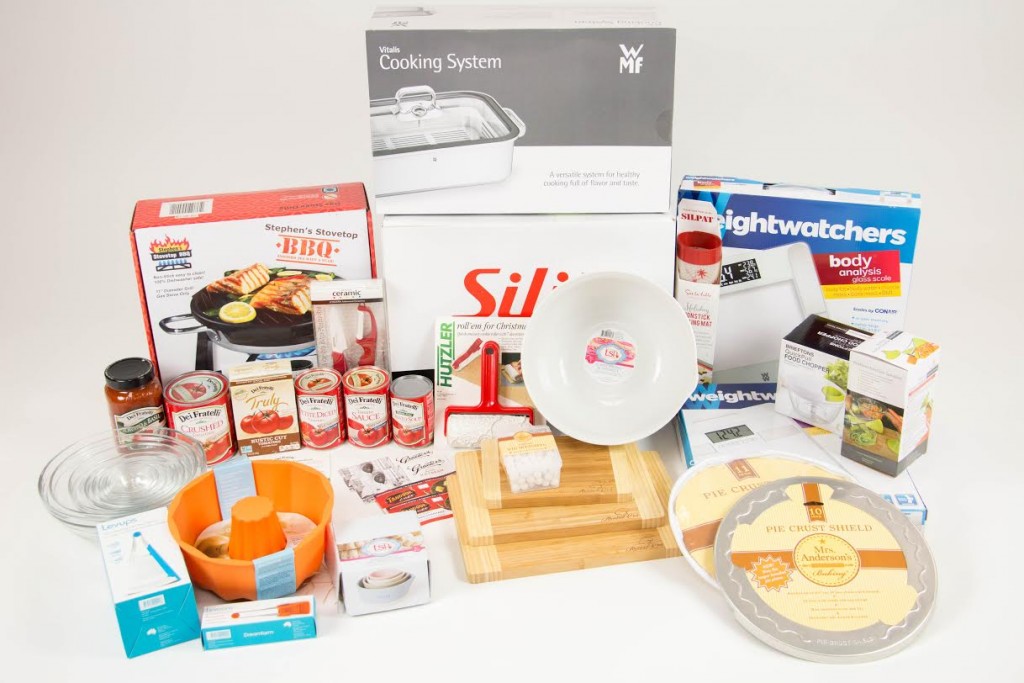 Don't Miss Out – Get Each Day's Giveaway In Your Inbox
Be sure to subscribe to our newsletter so you don't miss a single giveaway! Trust us, these prizes are something to get excited about, and you won't want to miss them. Sign up for our free email newsletter and be on the look-out for links to each day's giveaway (plus, get a whole bunch of great recipes while you're at it)!