We have a daily giveaway for the 12 Days of Christmas. Every day features a brand new free recipe and a chance to win a free cooking prize. Look for the current day to enter. Winners are announced on the blog daily. Scroll down for the current day's giveaway. Good luck!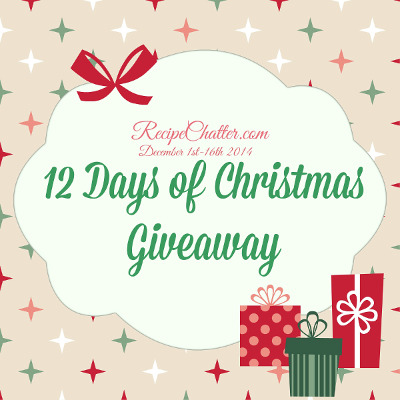 Stay updated with 12 Days of Christmas Giveaway news by subscribing to any of our newsletters (see links below). Bookmark this page and check the blog for daily updates about how to enter for each prize. Enter every day for more chances to win one of these festive, versatile prizes. Plus, you will have a chance to win a special GRAND PRIZE, consisting of every prize from each of the 12 days!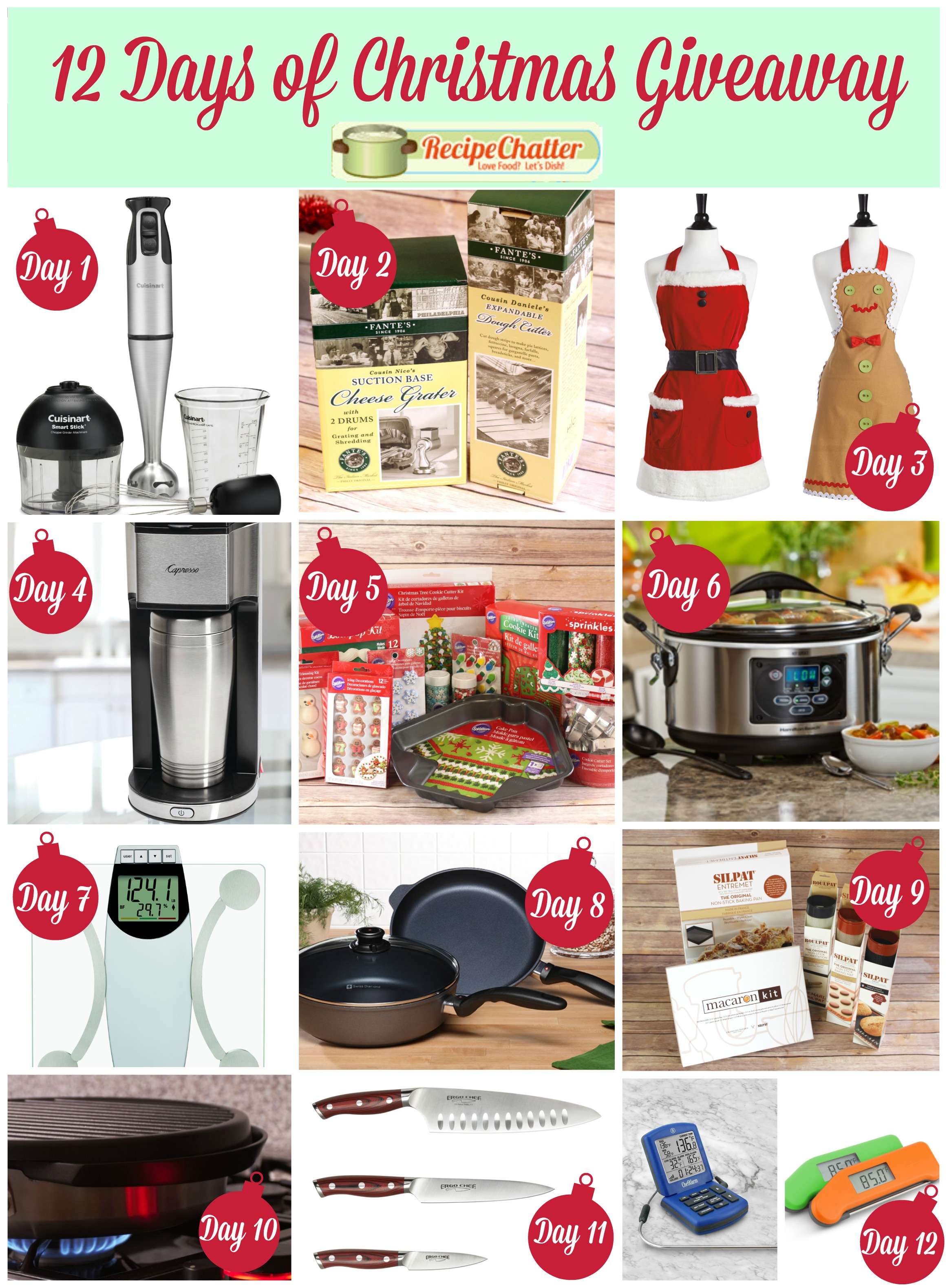 Below is the complete list of prizes from 12 fabulous brands you have to look forward to!
Day 1 (Monday December 1st): Cuisinart Smart Stick® Two Speed Hand Blender
Sponsors: Cuisinart and RecipeLion.com

Day 2 (Tuesday December 2nd): Fante's Suction Base Cheese Grater and Expandable Dough Cutter
Sponsors: Harold Import Co. and AllFreeCasseroleRecipes.com

Day 3 (Wednesday December 3rd): Gingerbread Man and Mrs. Clause Apron Set
Sponsors: Jessie Steele and AllFreeSlowCookerRecipes.com

Day 4 (Thursday December 4th): Capresso One Cup Coffee Maker
Sponsors: Capresso and AllFreeCopycatRecipes.com

Day 5 (Friday December 5th): Wilton Ugly Sweater Prize Pack
Sponsors: Wilton and TheBestDessertRecipes.com

Day 6 (Monday December 8th): Set & Forget® 6 Qt. Programmable Slow Cooker With Spoon and Lid
Sponsors: Hamilton Beach and AllFreeSlowCookerRecipes.com

Day 7 (Tuesday December 9th): Weight Watchers® by Conair Glass Body Analysis Scale
Sponsors: Conair and FaveHealthyRecipes.com
Day 8 (Wednesday December 10th): Swiss Diamond Fry Pan and Saute Pan Set
Sponsors: Swiss Diamond and RecipeLion.com
Day 9 (Thursday December 11th): Silpat Prize Package
Sponsors: Silpat and TheBestDessertRecipes.com

Day 10 (Friday December 12th): Stephen's Stovetop BBQ 11-inch Grill
Sponsors: Stephen's Stovetop BBQ and FaveSouthernRecipes.com

Day 11 (Monday December 15th): Ergo Chef Crimson Series Knife Set
Sponsors: Ergo Chef and AllFreeSlowCookerRecipes.com

Day 12 (Tuesday December 16th): ThermoWorks Chef Alarm/Cooking Thermometer and Super-Fast Thermapen
Sponsors: ThermoWorks and RecipeLion.com

GRAND PRIZE: Sleigh of Prizes!
The Grand Prize winner will receive a "Sleigh of Prizes" – a complete collection of the prizes offered throughout the contest (shown below)! Information about how to enter for the grand prize can be found on any of the individual contest pages.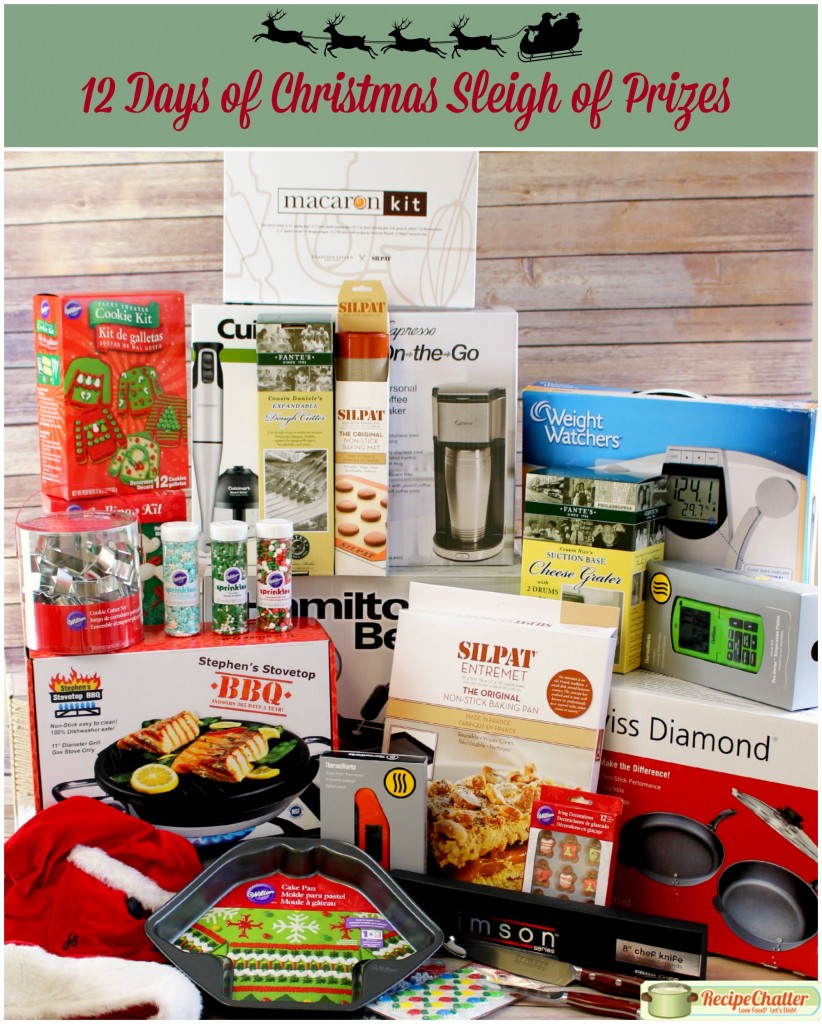 Don't Miss Out – Get Each Day's Giveaway In Your Inbox
Be sure to subscribe to our newsletters below so you don't miss a single giveaway! Trust us, these prizes are something to get excited about, and you won't want to miss them. Sign up for our free email newsletters and be on the look-out for links to each day's giveaway (plus, get a whole bunch of great recipes while you're at it)!
The Dessert Dish from TheBestDessertRecipes.com
The Slow Cooker Chronicle from AllFreeSlowCookerRecipes.com
Quick & Easy Recipes From RecipeLion.com
The Casserole Connection from AllFreeCasseroleRecipes.com
Quick and Healthy Recipes from FaveHealthyRecipes.com
Crazy for Copycats from AllFreeCopycatRecipes.com
Quick and Easy Everyday Cooking from the MrFood Test Kitchen
The Gluten Free Digest from FaveGlutenFreeRecipes.com
Everyday Southern Comfort from FaveSouthernRecipes.com