We are halfway to the holidays, and the best way to celebrate is with 12 days of giveaways! From July 13 to July 28, we will offer daily prizes and free recipes right here on Recipe Chatter. Take a look below to see what we have in store for you, and visit the blog daily for your chance to win.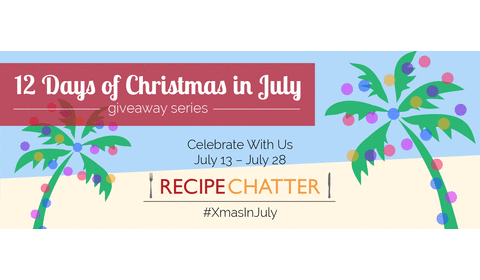 Another way to stay up-to-date with the 12 Days of Christmas in July giveaways is to sign up for our newsletters! Here, you can not only see what's new in our 12 Days of Christmas in July promotion, but you can also find more free recipes and other chances to win our weekly giveaways!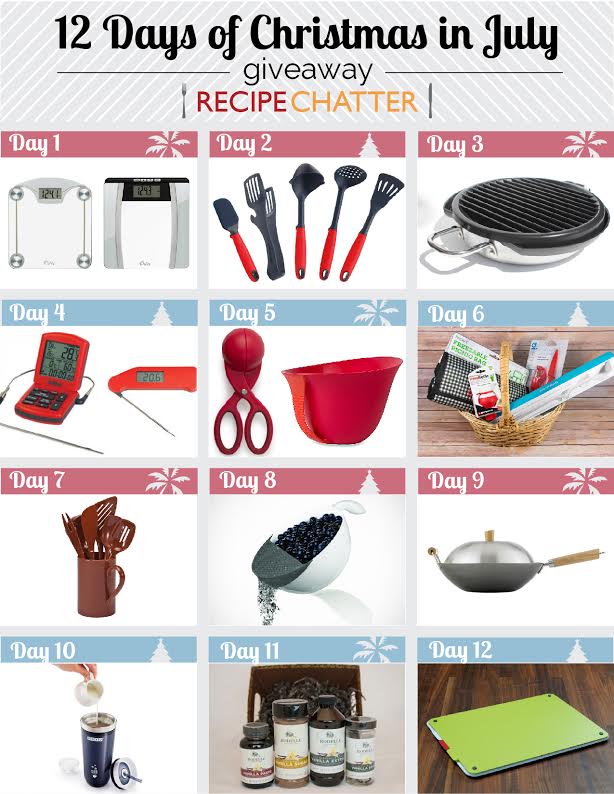 Find the complete list of prizes from 12 of your favorite food companies below. Remember to visit the blog daily and enter for your chance to be the lucky winner!
Day 1 (Monday, July 13): Weight Watchers® by Conair Body Analysis Scale and Digital Glass Scale

Sponsors: FaveHealthyRecipes.com and Weight Watchers by Conair
Day 2 (Tuesday, July 14): Swiss Diamond 5 Piece Kitchen Tool Set
Sponsors: AllFreeCasseroleRecipes.com and Swiss Diamond
Day 3 (Wednesday, July 15): Stephen's Stovetop BBQ 11″ Grill
Sponsors: FaveSouthernRecipes.com and Stephen's Stovetop BBQ
Day 4 (Thursday, July 16): ThermoWorks Chef Alarm/Cooking Thermometer and Super-Fast Thermapen
Sponsors: RecipeLion.com and ThermoWorks
Day 5 (Friday, July 17): Architec Meatballer and Holdbowl
Sponsors: AllFreeCopycatRecipes.com and Architec
Day 6 (Monday, July 20): Swissmar Picnic Basket
Sponsors: AllFreeSlowCookerRecipes.com and Swissmar | PackIt | Dreamfarm | KitchenIQ
Day 7 (Tuesday, July 21): Gourmac Mini Utensil & Mug Set
Sponsors: AllFreeCasseroleRecipes.com and Gourmac
Day 8 (Wednesday, July 22): Tovolo Soak N' Strain
Sponsors: TheBestDessertRecipes.com and Tovolo
Day 9 (Thursday, July 23): Helen Chen's Asian Kitchen 14″ Carbon Steel Flat Bottom Lidded Wok Set & Easy Chinese Stir-Fries Cookbook
Sponsors: FaveGlutenFreeRecipes.com and Harold Import Company
Day 10 (Friday, July 24): Zoku Iced Coffee Maker
Sponsors: AllFreeCopycatRecipes.com and Zoku
Day 11 (Monday, July 27): Rodelle Vanilla Package
Sponsors: TheBestDessertRecipes.com and Rodelle
Day 12 (Tuesday, July 28): Joseph Joseph Food Station Cutting Boards
Sponsors: RecipeLion.com and Joseph Joseph

Don't Miss Out – Get Each Day's Giveaway In Your Inbox
Make sure to subscribe to our newsletter so you don't miss a single giveaway! These prizes are something to get excited about, and we don't want you to miss out on your chance to win. Sign up for the free e-mail newsletters and be on the lookout for links to each day's giveaway.
The Dessert Dish from TheBestDessertRecipes.com
The Slow Cooker Chronicle from AllFreeSlowCookerRecipes.com
Quick & Easy Recipes From RecipeLion.com
The Casserole Connection from AllFreeCasseroleRecipes.com
Quick and Healthy Recipes from FaveHealthyRecipes.com
Crazy for Copycats from AllFreeCopycatRecipes.com
Quick and Easy Everyday Cooking from the MrFood Test Kitchen
The Gluten Free Digest from FaveGlutenFreeRecipes.com
Everyday Southern Comfort from FaveSouthernRecipes.com
Everyday Diabetic Recipes from EverydayDiabeticRecipes.com
Which prize would make your July feel like Christmas morning?