Spaghetti squash is a healthy ingredient substitution that can fool 'em all. Kids, dads, all those people in your life (including you, probably) with a taste for meaty pasta dishes can have their favorite pasta and eat it too – but it's secretly healthy! Spaghetti squash recipes are a delicious way to eat healthier and still enjoy your favorite dishes.
What's spaghetti squash?
It's a truly interesting vegetable. When cooked, this tender, chewy food falls apart in strands that resemble spaghetti. This makes it the perfect healthy substitute for pasta in many recipes!
While it's very similar to spaghetti in texture, cooked spaghetti squash still retains its sweet, squash-like flavor. Fair warning: it's not exactly the same thing as pasta, and it may take a couple attempts to cook it properly. But it's pretty darn close to tasting like regular pasta – and definitely close enough for those looking to eat healthier. If you're trying to eat gluten-free, you'll love this ingredient.
What can I make with it?
To balance out that extra sweetness of the squash, there are plenty of spaghetti squash recipes that use the flavor as an advantage. Before you try making your usual spaghetti recipe with spaghetti squash instead of noodles, try one of these spaghetti squash recipes. That way, you might get some ideas on how to change up your usual pasta recipes to be healthier.
A lot of people want to eat heathier, but don't want to give up their favorite foods. With spaghetti squash, you can fool your family into eating healthier and they won't mind.
Check out our collection of spaghetti squash recipes and let us know what you think!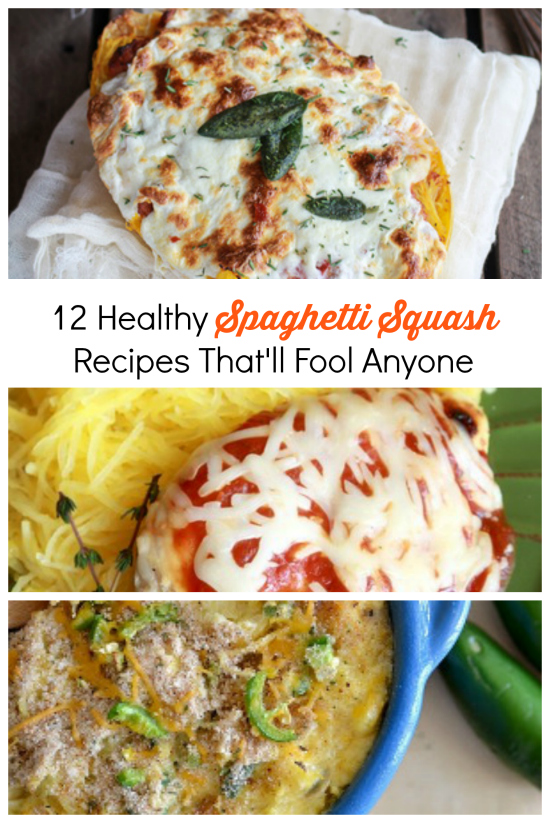 12 Healthy Spaghetti Squash Recipes That'll Fool Anyone

If you love cooking with spaghetti squash, check out all of these other great vegetable recipes! From squash recipes to recipes with cucumbers and asparagus, it's like vegetable heaven over on our "Healthy Vegetable Recipes" Pinterest board!

Do you have any tips for cooking spaghetti squash?
Latest posts by FaveHealthyRecipes
(see all)