Perhaps the sun has begun to show in your neck of the woods. Perhaps that sun reminds you of the brighter days of summer. Perhaps this impending season not only brings a warm smile to your face and butterflies to your tummy, but also the fears of sliding back into your 2012 bikini.
To help ease these pressures, and hopefully help shed the pounds most Americans gain during the winter months, we've created a fabulous (and free!) new eCookbook to help you stay on your summer diet plan. Check out this collection of 12 Must-See Simple Salad Recipes.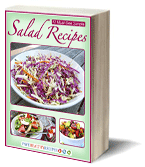 Not only are salads a nutritious meal option, they carry with them a plethora of benefits. Check out the top three reasons to eat salads according to WebMD.com:
1. Eat Salads for the Fiber
It's hard to believe that something we can't even digest can be so good for us! Eating a high-fiber diet can help lower cholesterol levels and prevent constipation. Not only that, eating more fiber can help you feel fuller, eat less, and ultimately lose weight.
2. Eat Salads for the Health Benefits of Fruits and Vegetables
Many experts agree that Americans need to eat more fruits and vegetables (especially dark green and orange vegetables) and legumes — all popular salad ingredients. If you frequently eat green salads, you'll likely have higher blood levels of a host of powerful antioxidants (vitamin C and E, folic acid, lycopene, and alpha- and beta-carotene,) especially if your salad includes some raw vegetables. Antioxidants are substances that help protect the body from damage caused by harmful molecules called free radicals.
3. Eat Salads to Cut Calories and Increase Satisfaction
If losing weight is your goal, you may want to start your meals with a green salad. Studies have shown that eating a low-calorie first course, like a green salad of 150 calories or less, enhances satiety (feelings of fullness) and reduces the total number of calories eaten during the meal.
Download this free eCookbook and print out these recipes for your own personal use.
Latest posts by FaveHealthyRecipes
(see all)