It's no secret that we all have our own traditional Christmas cookie recipes that we make every year. Some cookies are just that good or mean just that much to us. However, it's high time that we all start incorporating exciting and new Christmas cookies into our routines!
With new Christmas cookie recipes come new traditions, new memories, and, above all, new Christmas cookies to fall in love with and share with others. After all, the holiday season is all about spending time with family and enjoying each other's company, so what better way to do so than while baking or eating a batch of cookies you've never tried before?
For years, my mom and I have reserved one whole Saturday in December to bake batches upon batches of cookies. We make the same cookies year after year, which means that I became a pro at a few Christmas cookie recipes pretty quickly. However, I couldn't help but notice that the Saturdays would move more and more slowly every year. No amount of reciting lines from National Lampoon's Christmas Vacation along with the movie could change that. Plus, when Christmas Eve would roll around, there was nothing that we made that we could be especially proud of. Yes, all of our cookies would always turn out delicious, but since we'd made the same ones for years, there was nothing to brag about.
Then, one year, I suggested that we bake up a batch of Unforgettable White Chocolate Cranberry Cookies along with the cookies that we always made. Trying a new Christmas cookie recipe changed everything! Our baking day was so much more fun, and my mom couldn't help but talk about the cookies on Christmas Eve when we shared them with the whole family. It's amazing what trying a new cookie recipe can do!
The cookies below aren't as much strange or weird as they are uncommon and wonderful. For instance, would you have ever thought to make a batch of cookies that look like a cute roly-poly Santa Claus? Or a batch of snowball cookies with eggnog? How about some green no-bake cookies that look like Christmas wreaths? They're all delicious and definitely worth checking out!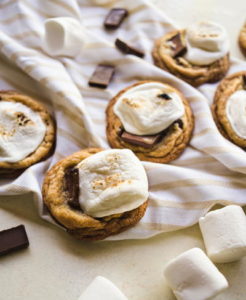 Bonus! Christmas cookie recipes straight from our brand new cookbook – Easy Cookie Recipes: 103 Best Recipes for Chocolate Chip Cookies, Cake-Mix Creations, Bars, and Holiday Treats Everyone Will Love!
Looking for more delicious Christmas cookies to make for the big day? Easy Cookie Recipes: 103 Best Recipes for Chocolate Chip Cookies, Cake-Mix Creations, Bars, and Holiday Treats Everyone Will Love is available now for purchase at Barnes and Noble and Amazon!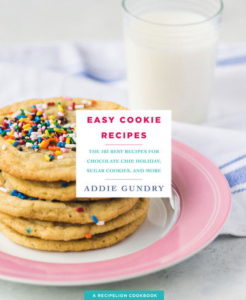 This book by chef Addie Gundry shows you how to masterfully create beautiful cookies through expert chef tips and shortcuts. You will get 103 of the most deliciously unique cookie recipes (accompanied by full-color, stunning photographs of course!) and plenty of suggestions for customizations so you can make these recipes all your own.
Click here to order the book on Amazon!
Click here to order the book at Barnes and Noble!
Which of these Christmas cookie recipes would you want to try this year? Let us know below in the comments!
Latest posts by TheBestDessertRecipes
(see all)