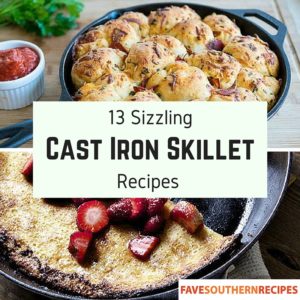 We all get lazy sometimes and need a little break from intense cooking. For days like those, I like to break out my cast iron skillet! I used to be a little bit intimidated by cast iron skillets. There just seemed to be a lot of rules to using them that seemed complicated and unnecessary, but once I learned how to use a cast iron skillet, I never went back. They're so versatile, and I love being able to use them on the stove top and in the oven.
What makes skillet recipes so great is that, more often than not, they end up being one pot meals, which makes clean-up a piece of cast iron skillet cake. But cast iron skillets are good for more than just their simplicity and versatility. They're also a really cool way to make a side dish look really presentable. I love making casseroles and cornbreads in my skillet because they look so much cuter than they would in a boring old baking pan, and the skillet gets the edges of the cornbread nice and golden brown. Maybe it's just me, but when something looks really presentable, it almost tastes better.
Skillet Breakfast Recipes
By far my favorite thing to do with my cast iron skillet is bake breakfast skillets. I'm definitely not a morning person, so if I'm going to have an easy-to-prepare meal, I want it to be breakfast.
Easy Buttermilk Skillet Pancake Recipe
Southern Sausage and Gravy Breakfast Skillet
Southern Corned Beef Breakfast Skillet
Sweet Potato Breakfast Skillet
Skillet Casserole and Side Dish Recipes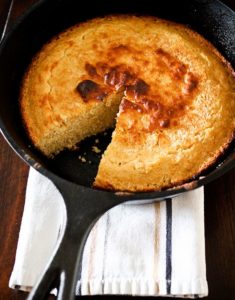 You could give me two of the exact same side dish but put one of them in a cast iron skillet, and I would probably tell you that the cast iron skillet one tasted better. There's just something about the presentation that a skillet brings that puts these casseroles and side dish recipes over-the-top amazing.
Skillet Pepperoni Garlic Knots
Cajun Shrimp and Pasta Skillet
Skillet Dessert Recipes
No list of skillet recipes would be complete without at least a few desserts. Skillets are great for making pies and cobblers because you can stick it straight into the oven.
Skillet Caramel Cinnamon Rolls
Skillet Peanut Butter Brownie Recipe
What's your favorite dish to make in your cast iron skillet? Let us know below in the comments!
Latest posts by FaveSouthernRecipes
(see all)