No one can resist the buttery delight of Southern food. Southern fare, known for its wholesome, crispy, and comforting taste, has changed the face of family cooking. Whether you were born and raised in the South or love watching Southern food channels on the Food Network, you can't resist the taste of hearty, farm-fresh cooking.
No matter the season, it's always the perfect time to start cooking hearty casseroles with down-home flavors, just as they're done down South. AllFreeCasseroleRecipes has rounded up the best Southern-style recipes. The Southern comfort in these recipes will leave you feeling full and satisfied.
14 Southern Recipes to Feed the Whole Family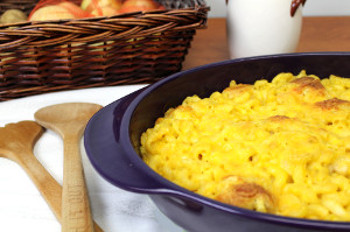 1. Golden and GooeyMac and Cheese (pictured, left): A simple homemade Cheddar cheese sauce and buttery biscuits give this mac and cheese Southern flair. Test Kitchen-approved!
2. Best Ever Southern Peach Cobbler: Peaches, brown sugar, cinnamon, and nutmeg come together for a sweet treat.
3. Fan-Favorite Favorite Goulash: This one-pot wonder is chock-full of ground beef, macaroni, and lots of flavor.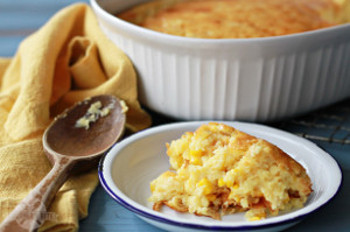 4. Sweet Corn Spoonbread (pictured, right): Similar to corn pudding, this southern recipe would be great for a potluck.
5. Mouthwatering Mexican Chicken Casserole: Hearty, Tex-Mex ingredients that Ree would love, plus it's done in 30 minutes. Great weeknight dinner option!
6. Chicken Noodle and Dumpling Casserole: If chicken noodle soup and chicken and dumplings had a child, this would be it.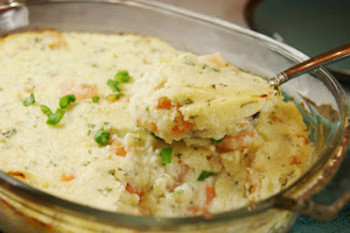 7. Deep South Shrimp and Grits Casserole (pictured, left): It doesn't get much more Southern than grits. This flavorful casserole is a must-try.
8. Caramel Apple Crumble Bars: Full of fall flavor, these bars are sure to please the whole family.
9. Biscuit Pudding: An old-fashioned Southern recipe just like your grandma used to make.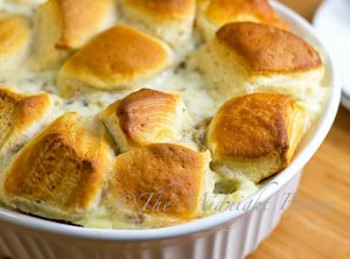 10. Biscuits and Gravy Pot Pie (pictured, right): Made with just 5 ingredients, this is a hearty dish for breakfast or dinner.
11. Oven-Fried Buttermilk Chicken and Gravy: Fried chicken is a hallmark of Southern food. Now, you can make an oven-baked version, complete with gravy!
12. Southern Summer Orange Blondies: Another dessert recipe made with a new spin. You'll love the sweet citrus flavors and creamy frosting.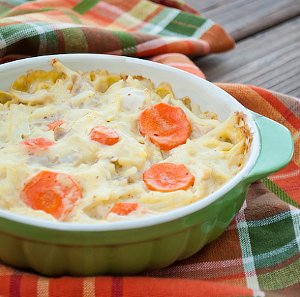 13. Country-Style Casserole (pictured, left): Hash browns and chicken are true comfort food in this bake. An excellent family dinner recipe!
14. Shepherd's Pie with a Southern Twist: No Southern table would be complete without cornbread. The South shakes things up with this variation on shepherd's pie that puts the mashed potatoes on the bottom and has a decadent layer of cornbread on top.
BONUS RECIPE Southern Apple Butter: This amazingly delicious spread can go on just about anything.
If you're looking for additional Southern recipes, check out our collection of 26 Easy Southern Food Recipes!
Who is your favorite Southern chef?
Latest posts by AllFreeCasseroleRecipes
(see all)