If you say that you don't like to eat pumpkin-flavored foods in the fall, then you're probably lying. Pumpkin is one of the best things about autumn, and let's not forget about apple, cinnamon, scarves, sweaters, comfy socks, and mulled wine. However, pumpkin is the queen of them all. You go to a pumpkin patch with your kids and you take pictures of them trying to lift a pumpkin as big as their entire body. It's the cutest thing! You might also enjoy a pumpkin-flavored coffee or donut while you're there. It's just what you do in the fall.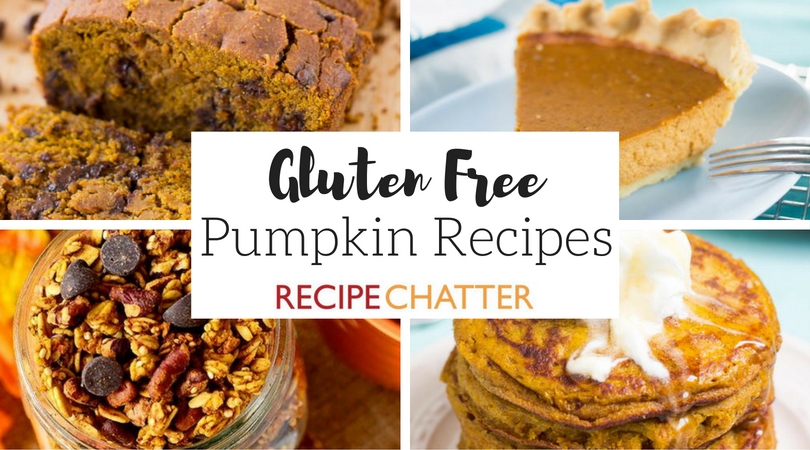 Then you take that pumpkin home and you might paint it or carve it into a spooky jack-o-lantern. After you carve it and get a cute picture out of it, what do you do with the insides of the pumpkin?
You cook with them! Or, if you don't want to have the mess in your kitchen from pumpkin innards, you can just buy pumpkin stuff at the store.

Pumpkin is definitely one of my favorite fall flavors, and I just can't get enough of it. I've collected some of the best gluten free pumpkin recipes that I could find so you can also enjoy fall as much as I do!
Pumpkin Bread Recipes
It honestly doesn't get much better than gluten free pumpkin bread right out of the oven. There's a chill in the air and you're finally wearing one of your thick sweaters. Eating a warm piece of pumpkin bread is just the perfect way to enjoy this new season full of change and wonder.
Gluten Free Pumpkin Recipes
If pumpkin bread isn't your style, then how about some of these awesome gluten free recipes with pumpkin? We have everything from breakfast foods like pancakes and waffles to granola for when you're on the go and soup for when, baby, it's cold outside.
What's your favorite pumpkin recipe for fall? Let us know below in the comments!
Latest posts by FaveGlutenFreeRecipes
(see all)