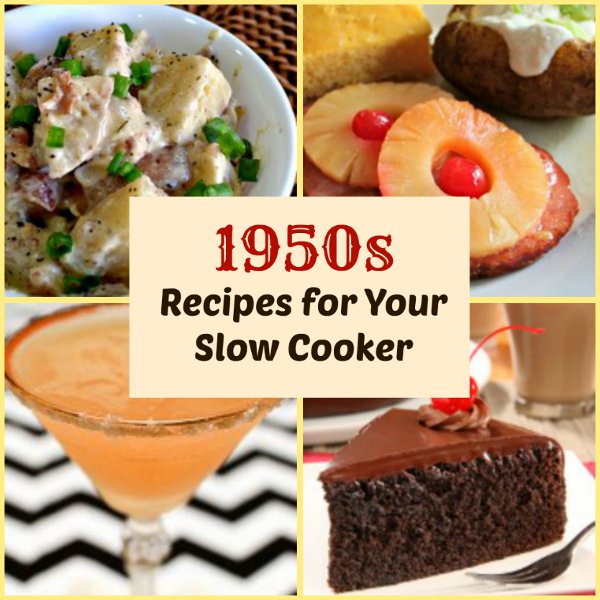 Poodle skirts, saddle shoes, and Spam– oh my! This post is a flashback to… you guessed it, the 1950s!
Although slow cookers were not popular kitchen appliances during the 1950s, AllFreeSlowCookerRecipes.com has created this collection of  1950s-inspired slow cooker recipes to have you feeling like you just took a step back in time.
Whether you grew up on these kinds of recipes or have only heard stories about them, use this collection to add some 1950s flair to your dinner table. The list below will give you a taste of some of the most beloved slow cooker side dishes, dinners, desserts and vintage drink recipes from this iconic decade. Maybe, you'll even be inspired to bring back the Spam craze! OK, hopefully you don't go that far…
1950s Appetizer Recipes and Side Dish Recipes
Creamy Bacon Ranch Potatoes (shown left): Whether you eat this potato salad warm or cold, the iconic flavors of the 1950s will shine through. Creamy potato salads were a popular side during this decade, so whip up this dish if you are feeling a little nostalgic.
Slow Cooker Creamy Onion Dip: Creamy, creamy, creamy. People in the 1950s sure did love a good cream-based dip, so use this onion dip to fit the bill. Serve this slow cooker recipe with pretzels, potato chips or veggies. This slow cooker dip is a great party food!
1950s Dinner Recipes
Old Fashioned Ham Slices and Pineapple Rings (shown right): What could scream 1950s more than ham and pineapple rings. This slow cooker ham recipe might as well be the poster child for the decade.
Old Fashioned 1950s Salisbury Steak: Use this recipe to create a hearty dinner, just like your mother or grandmother would have made. Salisbury steak is a modified version of steak that is made from ground beef molded into the shape of a steak-like patty. The mushroom sauce over the top of it taps into another one of the 1950s' most beloved flavors.
You could also try these Slow Cooker Pork Chops for another hearty dish that would make grandma proud.
And, as a bonus, you can check out some of our favorite slow cooker ground beef recipes.
1950s Dessert Recipes
Chocolate Cherry Cola Cake (shown left): For dessert, stun your family or your party guests with this easy slow cooker chocolate cake. Cherries and cola are added to the cake to make it a true 1950s throwback.
Betty's Slow Cooker Pineapple Upside-Down Cake: If you are having a 1950s themed party and are looking for the perfect dessert to make, consider this pineapple upside-down cake your go-to. This slow cooker recipe is simple and delicious: a true 1950s classic.
1950s Drink Recipes
To accompany the 1950s food at your party or gathering, make a couple of vintage-inspired cocktails to serve to your guests.
Visit Elizabeth Anne Designs to get this recipe for a Sidecar cocktail (shown left), and check out Fifties Wedding for the recipe for this Moscow Mule (shown right). I'll take one of each!
 What is your favorite, nostalgic 1950s dish?
Latest posts by AllFreeSlowCookerRecipes
(see all)