When it comes to easy weeknight dinner recipes, stir-fry is on my list of dishes that make the meal plan regularly. It's super easy to make, doesn't require me to turn on the oven, and is ready in as little as 20 minutes! Birds Eye vegetables teamed up with celebrity chef Melissa d'Arabian – host of FoodNetwork.com series "The Picky Eaters Project" – to develop this homemade takeout recipe the whole family will love.
It can be hard getting picky eaters to get their full servings of vegetables during dinnertime – many kids and adults alike don't care for any kind of vegetables at all! This 20-Minute Orange Chicken with Broccoli is a great way to mix the vegetables in with tender chicken and a delicious orange sauce, so even the pickiest eaters will clean their plates. The beauty of using Birds Eye recipe-ready frozen vegetables is that you don't have to fuss with washing and chopping – you just throw the vegetables in the pan and cook! You won't waste any food by buying full sizes of each vegetable fresh.
This is a one-pan recipe that will cut down on time and clean-up! With just 20 minutes, you can make this Orange Chicken with Broccoli – a takeout fakeout recipe that makes a great weeknight dinner. Skip the delivery and make something homemade instead. Not only will you save money, but homemade always tastes better.
Pan-Sautéed Orange Chicken with Broccoli
Recipes courtesy of Melissa d'Arabian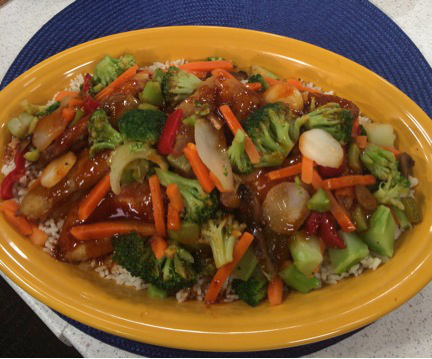 Yield: 4 servings
Prep time: 20 minutes
Ingredients:
Juice and zest of one large orange (about 2 teaspoons zest and 1/3 cup juice)
¼ cup soy sauce
1 teaspoon cornstarch
1 pound boneless skinless chicken breasts, thinly sliced
Salt and ground black pepper
Flour, for dredging
2 tablespoons olive oil
1 bag Birds Eye® Recipe Ready Broccoli Stir Fry
3 cloves garlic, minced
2 teaspoons minced ginger
1 1/4 cups low-sodium chicken stock or broth
2 tablespoons rice wine vinegar
Chopped cilantro (optional)
Cooking Instructions:
Blend orange juice, soy sauce and corn starch in a small bowl; set aside.
Season the chicken with salt and pepper and dredge lightly in flour.
Heat oil over medium-high heat and cook chicken 10 minutes, turning once or until chicken is cooked through. Remove from skillet and keep warm.
In same skillet add Broccoli Stir Fry and cook, stirring occasionally, 5 minutes or until vegetables are crisp-tender. Add garlic and ginger and cook 1 to 2 minutes or until just fragrant. Stir in orange juice mixture, orange zest, chicken stock and rice wine vinegar. Cook, stirring occasionally, 3 minutes or until sauce is bubbly and starts to thicken.
Add chicken back to pan and let flavors marry 1 to 2 minutes.
Sprinkle with cilantro.
Don't miss our collection of even more easy Chinese food recipes! All your favorite foods from a Chinese restaurant are included in this copycat collection.
What's your go-to 20-minute dinner recipe for busy nights?
Latest posts by RecipeLion
(see all)