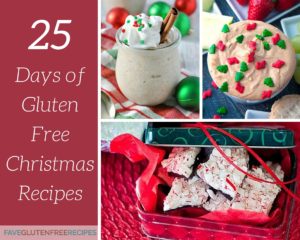 I love everything Christmas but I'll admit right now: I'm a purist when it comes to the holidays. I won't touch any Christmas decorations until Thanksgiving has ended because I believe every holiday deserves its time. But now it's really Christmastime–December has finally arrived! It's finally time to break out the candy canes, gingerbread, and cookies. I'm not sure about you, but my favorite part of the holidays is food. I hate the winter, but I wait all year for hot peppermint mochas and crunchy Christmas cookies.
Do you know what else I love about Christmastime? Advent calendars. It's like getting a little present every day leading up to Christmas. What could be better than that? I remember patiently waiting for the end of each day to open up the little flap on my advent calendar. Even if it's just a tiny piece of chocolate, it's still fun to open something every day.
This mystery list is set up sort of like an advent calendar and has plenty of recipes for holiday parties and last-minute gifts. As always, these recipes are all certified gluten free and delicious.  Now, you don't have to wait for the corresponding day, but you could since this list has 25 days worth of gluten free Christmas recipes–a present for every day! So whether you click through each recipe right now to find a new fabulous cookie recipe or wait to open one each day until Christmas, you will definitely not be disappointed!
25 Days of Gluten Free Christmas Recipes
What's your favorite thing about Christmastime? Let us know in the comments!
Latest posts by FaveGlutenFreeRecipes
(see all)