This guest blog post is brought to you by RecipeLion Featured Foodie Carole, author of the blog Toot Sweet 4 Two.
Food purchases are one of the major budget busters for today's family. A trip to the grocery store is akin to the game "Candyland" in that food producers and manufacturers are always developing new ways to tempt us to buy their products. And, with all these bells & whistles flashing in our faces as we walk down the grocery store aisles, most of us succumb and veer from our well-crafted, finely tuned grocery list!
So, other than "the usual" ways to stretch your food budget dollars (eat before your shop, stick to a list, "meatless Mondays", etc.), what other simple food saving strategies can be adopted to trim your grocery bill and maximize your food dollars?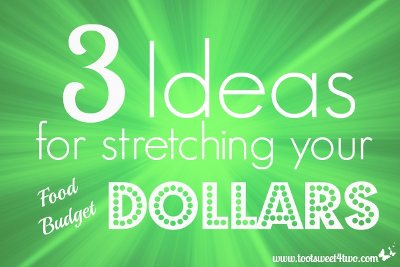 Here are 3 ideas for stretching your food budget dollars:
USE IT ALL UP
Purchase just enough fresh fruit and vegetables to last your family until the next shopping trip. Overstocking on perishables leads to waste and I've been guilty of this plenty of times. Fresh fruit and vegetables have a limited shelf life and spoilage is a possibility, cutting into your precious food budget dollars.
So, plan your daily menu around perishables that need to be used, including meat and dairy products. And, be mindful of the printed expiration dates.
For example, if you prefer not to eat overripe bananas, freeze them. They can be used to make smoothies and popsicles, or they can be defrosted and mashed to make banana bread and muffins. Do you have strawberries on the verge of spoiling? Cut them up, add sugar and freeze them to use in future desserts.
Remember: your freezer is your friend!
Also, save the ends of loaves of bread instead of throwing them out. Freeze them and use them later when you've collected several. Some recipe ideas to consider using bread ends and trimmings:
Strata and breakfast casseroles
Bread Cookies
Bread Crumbs
Thickening agent for stews
Crostini and bruschetta
With so many ways to use leftover bread, relegating bread ends and pieces to the trash should be last on the list!
MAKE SOUP
Save leftover meats, meat trimmings and bones. Again, freeze them for later soup making possibilities. I save all of our chicken bones religiously and make chicken soup about every two months. Yummy! You can make a hearty beef and vegetable soup, ham and bean soup, and pork soup to name a few. And, always save the Thanksgiving turkey carcass for turkey soup.
Forget canned vegetables when making soup! Add limp, no longer fresh vegetables to your soup and you'll save even more. There are even recipes out there for lettuce soup.
HAVE A "LEFTOVERS" NIGHT
Take all the leftovers out of the refrigerator and place them on your counter. Let the kids and the hubby pick what they want for dinner and fire up the microwave. Not only is fixing dinner quick and easy, but you've cleaned out your refrigerator at the same time. Combine it with something special, like game night or movie night, and make it a tradition. Who knew leftovers could be fun?
These are all easy, painless strategies that you can implement right now.
How do you stretch your food budget dollars?
Latest posts by RecipeLion
(see all)