It's one of the most common scenarios faced in households across the country. It's dinnertime. You've just gotten home from work/school/practice/errands… and so has your spouse. Everyone's hungry. There isn't much time and dinner needs to get on the table… pronto. So what do you do? More often than not, families today are turning to frozen meals or are picking up the phone to order takeout rather than making a home-cooked meal… all because of the increasingly hectic lives we all seem to be leading and the never-ending jam-packed schedules that rule our days. But it doesn't have to be that way; you don't have to sacrifice a home-cooked meal for the sake of convenience. There is a happy medium and believe it or not, you can make a meal like the one your mom used to make… without spending all day in the kitchen!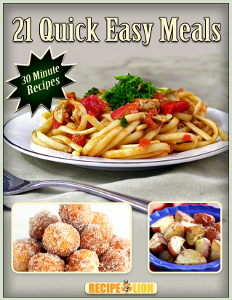 Enter the new free eCookbook from RecipeLion.  34 easy-to-print pages with 21 quick and easy dinner recipes  perfect for extremely busy weeknights.  In fact, each one of the dishes in this recipe collection can be prepared in half an hour or less… that's less time than it takes to watch many of your favorite TV shows!  Even on the most rushed of days there should be thirty short minutes that you can find to fix one of these lightning fast dishes.  From chicken skillets to sloppy joes to linguine and more, there are plenty of quick meals to make throughout the week to keep your family happy… and keep yourself sane!
Download your free copy of 30 Minute Recipes: 21 Quick & Easy Meals here and keep reading for a special
sneak preview of what's inside the recipe collection.
Amazingly Fast Appetizer: No-Fuss Cabbage Fritters
These golden-brown cabbage patties are just what we imagine heaven tastes like. Fry up these simple fritters when you need an easy starter for your meal. They're incredibly fast to whip up and you can make a whole bunch at once!
Find the recipe on page 9 of the free eCookbook. 
Perfectly Easy Side Dish: Ranch Roasted Red Potatoes
This potato side dish is basically just toss and go. Five minutes of prep time and about 20 minutes in the oven are all it takes to make some of the tastiest potatoes around. Who would have thought?!
Find the recipe on page 14 of the free eCookbook. 
Main Dish in Minutes: Flash in a Pan Chicken
Simple yet insanely delicious, this lightning fast chicken recipe is one you're going to want to keep on hand. Just 12-15 minutes of total cooking time is all that stands between you and a nice and juicy piece of chicken that's seasoned to perfection. Yum!
These three recipes are just a small taste of what's in store for you in the 30 Minute Recipes free eCookbook from RecipeLion.  Did we mention that there are dessert recipes in there too?  You won't want to miss out on sweet treats that you can whip up in less time than it takes to watch your favorite sitcom, so go ahead and get your free copy of the recipe collection now.
Latest posts by RecipeLion
(see all)