Print This Post
In a couple of weeks, families across the country will come together to celebrate the Easter holiday. If you're a baking junky like me, you're probably perusing the internet for some simple dessert ideas that you can impress your family with. There are a ton of delicious dessert recipes to be found on the internet, but I've collected some of my favorite gluten free Easter dessert ideas to share with you. After all, there's nothing wrong with indulging in a little dessert, especially on a special occasion.
Gluten Free Easter Desserts
Hidden Rainbow Easter Egg Cake:
I'm a huge fan of peek-a-boo cakes. Don't you love the surprise hidden away inside of cake and frosting? This Hidden Rainbow Easter Egg Cake, created by Toni from Boulder Locavore, is one of the cutest gluten free cakes I've seen. It's perfect for Easter!
Carrot Cupcakes:
Carrot cake might be my favorite kind of cake, especially in the spring and summer. These Carrot Cupcakes are the perfect solution to one of my personal problems–going back for seconds of dessert. You get the perfect amount of cake in a delicious little package.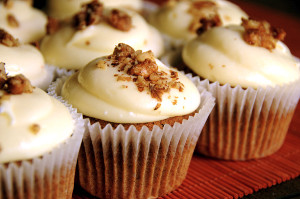 Gluten Free Lemon Cookie Nests:
The pastel colors that spring up at Easter are always a welcome sight after the darker colors of winter. These Gluten Free Lemon Cookie Nests, from Tabitha at Kitchen to Nirvana, celebrate a bright range of colors and will give any feast a festive appearance.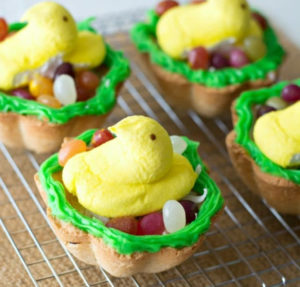 Hot Cross Buns:
Surprise your family with a long standing Easter dessert that isn't often seen any more: Hot Cross Buns! These sweet buns are the perfect treat to pair with coffee or tea.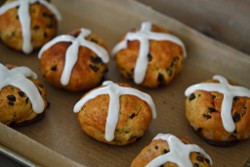 What is the most creative dessert you ever made?
FaveGlutenFreeRecipes.com is your source for hundreds of free gluten free recipes, gluten free foods, and gluten free healthy recipes. We add new wheat free recipes and tips every day. You will find step-by-step instructions, videos, and recipes to make gluten free cooking quick and easy. Whether you have celiac disease or are just interested in learning more about a gluten free diet, we have something for everyone. From healthy gluten free breakfast recipes all the way to gluten free dessert recipes, we have gluten free cooking ideas for everyone and for every situation.
Latest posts by FaveGlutenFreeRecipes (see all)
Print This Post