According to the Center for Disease Control, we are currently in the worst flu season of the past decade. If you have not already been affected by the flu, then chances are somebody you know or somebody you work with has. I personally was out for several days last week with the flu. I am all better right now and I have FaveHealthyRecipes.com to thank for that. They have some amazing recipes to help cleanse the body and make you right again. They also would like to offer you some amazing flu-fighting recipes to help save off infection. Join us for 4 Flu-Fighting Foods For This Winter Season.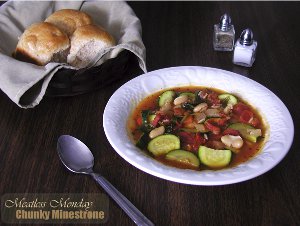 This soup brought to you by FaveHealthyRecipes.com is a great soup to have on any cold winter day. This Chunky Minestrone Soup is loaded with nutrient-rich vegetables which makes it one of the best flu-fighting foods around. Plus, is tastes wonderful and is a soup you can have all year round!
These Grilled Fish Tacos with Avocado Salsa from Kitchen Simplicity are perfect for this time of year. In fact, they taste so good they are perfect for ANY time of the year. Fish is full of Vitamin D and studies have shown that people with Vitamin D deficiencies are more prone to getting the flu. Add fresh veggies on top of the taco and you practically have a delicious and edible flu shot in your hands!
This incredible Citrus Garlic Roast Chicken recipe from Real Mom Kitchen is full of flu-fighting foods to help out your immune system. First, this recipes uses garlic that contains a compound called allicin. Allicin helps prevent colds and shortens the duration of them. Secondly, this dish calls for an orange which is full of Vitamin C to help your immune system. Lastly, this chicken recipe flat out tastes so good. It is out of this world.
Ice cream is the best thing to have when you are sick and this Green Tea Ice Cream from Annie's Eats is the cream of the crop when it comes to foods to eat when you are sick. Green tea has essential antioxidants and anti-viral resistance in it to help with your immune system. Plus, you now have an excuse to eat ice cream!
What do you like to eat when you come down with a cold or the flu?
Latest posts by RecipeLion
(see all)