A flaky, buttery pie crust is an essential part of any pie recipe. If you can't wait to get to the edge when you're eating a piece of pie, you've got to try this easy cookie recipe. Pie crust cookies are everything you love about a homemade pie crust, but in cookie form! Everyone loves a great, easy cookie recipe, especially around the holidays, and this is one you'll want to make over and over. The 5-Ingrediet Pie Crust Cookies are dusted with cinnamon and sugar, so they're just sweet enough to enjoy for breakfast, dessert or a snack any time of day.
Although these cookies use a homemade all-butter pie crust recipe, you can also substitute store-bought pie crust and roll it out in the same way. These braided cookies look complicated, but are actually super easy to make! If you're in a pinch for time, you can also use this basic pie crust recipe to make cut-out cookies.

5-Ingredient Pie Crust Cookies
Preparation Time: 30 minutes
Chilling Time: 4 hours
Cooking Time: 10 minutes
Ingredients:
1 1/4 cups all-purpose flour
1/4 teaspoon salt
1/2 cup butter, chilled
1/4 cup water
Cinnamon and sugar mixture
Instructions:
1. Combine flour and salt in a food processor, and add butter in slices until mixture resembles coarse crumbs. Add water, 1 tablespoon at a time, until dough forms a ball. Wrap in plastic wrap and refrigerate for 4 hours or overnight.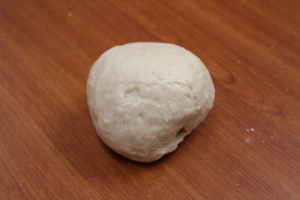 2. Preheat oven to 400 degrees F.
3. Roll dough out onto a floured surface as thin as you can get it. Cut off the round edges so you're left with a square.
4. Cut the dough into thin slices (1/8 – 1/4 inch). Pinch three slices together at one end, using a dab of water to help seal the ends.
5. Braid the three pieces together until you reach the end of the strips. Using your sealed end as a base, wrap the entire braid around that base. Tuck the braid under the cookie and gently press the cookie flat in your hand.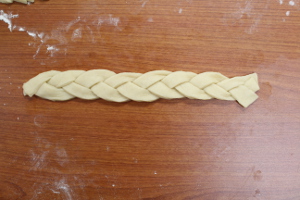 6. Repeat until the rest of the dough strips are used up. Arrange cookies on a greased cookie sheet. Brush each cookie with melted butter, then sprinkle with cinnamon and sugar mixture.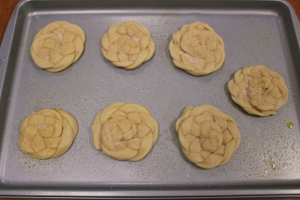 7.  Bake for 10 minutes or until cookies just start to brown. If you prefer crunchy cookies, cook for a few minutes longer.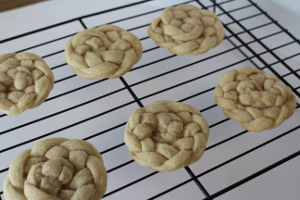 Do you look forward to the crust of a piece of pie, or do you leave the end untouched?
Latest posts by RecipeLion
(see all)