One of the best things about the holidays is the wealth of food all around. Whether you're the one doing the cooking or the one being cooked for, festive meals are in full abundance during Christmas time. Preparing to host a Christmas party might seem like a daunting task – especially if it's your first time. That's why we're sharing our favorite slow cooker appetizers for the holidays from AllFreeSlowCookerRecipes.
Each of these simple-to-make slow cooker appetizers is perfect for your biggest holiday bash because they are made to feed a crowd. So, take some comfort in knowing you've got the holiday party food covered this year — and you won't have to lose any sleep over it, because these recipes couldn't be easier!
We are firm believers in the idea that slow cookers are magical, which is what makes them ideal for parties of all kinds. They keep your dishes warm, you can use them as extra serving vessels, and they help you easily save space in the oven – key during the holidays.
Below, are our 6 favorite slow cooker appetizers for a holiday party. They are delicious, easy to make, and feed a hungry crowd with ease. Happy slow cooking!
 6 Crowd-Pleasing Recipes for the Slow Cooker:
1. Cocktail Meatballs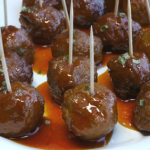 These fantastic slow cooker cocktail meatballs are perfect for filling up party trays, and are sure to fill up your guests as well. Add some holiday flair, and dress them in a thick-cranberry glaze for a delightful, sweet and smoky appetizer.
2. Bacon-Wrapped Mini Hot Dogs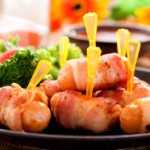 These bite-sized bacon and mini hot dogs are always a hit with crowds. Crispy bacon on the outside and a warm savory hot dog on the inside: this is one party food that will never go out of style.
3. Creamy Onion Snack Dip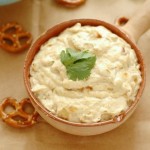 Creamy dips are great for dipping other snack-able party foods like pretzels, chips, and crackers. Regardless of if you go with this Creamy Onion Snack Dip, or another party-sized spread, it's sure to be a hit at any party this holiday season.
4. Festive Holiday Mini Toasts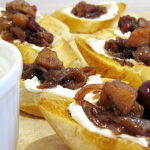 There is something very inviting about individualized party treats. It's all yours, and as long as they hold out, you can have as many as you want. It's fun to be able to create appetizers and party food based on the type of party or time of year. For Christmas, we recommend these delicious (and festive) cranberry and caramelized onion topped mini toasts.
5. Praline Pecan Party Mix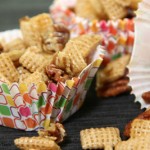 Party mixes, like this Praline Pecan Party Mix, are always a great direction to go in when you're planning for a party. You can make enough to go around with very little effort, and it's always a crowd-pleaser because it's salty, sweet, crunchy, and is easy to eat by the handful. This slow cooker version is one of the simplest we've seen. Your guests will love the sweet praline flavor, mixed with salty pecans.
6. Old Fashioned Holiday Wassail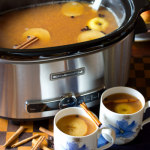 After all that snacking, your guests will need some refreshments. In addition to the usual water and soda, this Old Fashioned Holiday Wassail is a festive mulled cider that is quick to make in your slow cooker. Guests can help themselves to a cup-ful by ladling it straight out of the slow cooker, where it will have plenty of time to develop tons of flavor.
What are some of your favorite holiday party foods?
Latest posts by AllFreeSlowCookerRecipes
(see all)