Good seafood is hard to resist in summertime! Here in the Midwest, you can't throw a stick without hitting a Fish Fry. However, fish is actually very easy to cook at home. Why not feed the family some great seafood while its fresh and budget-friendly? FaveHealthyRecipes.com has plenty of easy fish recipes.
It's easiest to make fish when you have the right tools. Did you know Swiss Diamond makes a Nonstick Fish Pan? Whether you're making fresh salmon or a Northern pike, you can make sure your fish cooks evenly and gets the right amount of seasoning with a properly sized, steam vented pan.
The best thing about eating fish is that it's very helpful, packed with protein and antioxidants to keep you healthy. Eating fish will leave you feeling light and energized, unlike other meats like beef and turkey which make you want to take a nap. Use that energy to enjoy the sunshine while it lasts! 🙂
7 Healthy Seafood Recipes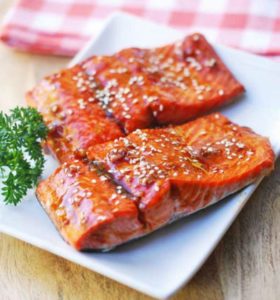 What's your favorite seafood? Let us know below in the comments!
Latest posts by RecipeChatter
(see all)