Who's ready for soup season? We are, and we bet you are too! As fall is in full swing and winter's on it's way, we at AllFreeSlowCookerRecipes, are here to share with you our favorite fall recipes for the best slow cooker soups, which can be enjoyed throughout the cold-weather seasons.
If you've ever watched Chopped on the Food Network, you know that the chefs who attempt to make soups in the 30-minute time constraint are usually not very successful in developing rich or complex flavors. A similar effect can happen when cooking soups on your stove top. I, for one, want to live in world where sub-par soups are a thing of the past, because when done properly, soups can be very hearty and delicious meals. For this reason, we should all be slow cooking our soups.
Slow cooking soups is an effortless way to infuse many wonderful flavors into a dish, and by following a few simple rules in the process, you will become an expert, slow-cooking soup chef in no time. Cooking soups in your slow cooker is a great way to make hearty and healthy seasonal meals that taste so much better than dumping a can of condense soup into a stove top pot.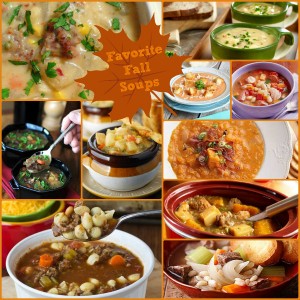 Around this time of year, you probably start thinking about some of your favorite fall soup recipes. We went ahead and did some of the leg work for you, and collected recipes for 10 of the best slow cooker soups (below) that are sure to keep you warm during the brisk and nippy season ahead. And because we love our readers (and slow cooker soups), we also decided to share some tips that we've picked up along our own slow cooking journey, that will help you cook the best-tasting slow cooker soups and stew recipes.
Essential Tips for Amazing Slow Cooker Soups
Whether you're making a soup from scratch, modifying a regular soup recipe to a slow cooker version, or trying to improve upon a recipe you already love, these tips will make you an expert soup artist when it comes to using your slow cooker.
Cook Some Items Longer than Others


Did you know the certain ingredients benefit from longer cooking times than others? These are the ingredients that you're doing to want to add to your soup at the very beginning. These include things like, tougher vegetables, meats and spices. Doing this will allow greater flavor to develop in meals like beef or lamb stew with potatoes and rosemary — and you will be very pleased with the results.
Items that benefit from shorter cooking times

In contrast, there are ingredients that don't hold up very well against long cooking times. These ingredients are ones that you'll want to add during the last 30-45 minutes of cooking, that will add a nice, fresh element to your meal. These are going to be things like, softer vegetables, pantry items (think noodles, rice, and beans), and dairy items.
Portion Your Ingredients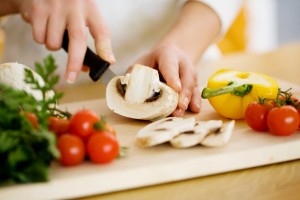 Make sure all of your ingredients are portioned to roughly the same size. This way, you can count on everything cooking evenly and at the same rate.
Browning Your Meats and Veggies Beforehand

Another great way to get some added richness and flavor is by browning your veggies and searing or browning your meat before adding it to your slow cooker. Busy schedules do not always allow for this, but if you're cooking a soup for a special occasion — like the holidays — sometimes it's nice to take a little extra time to achieve greatness.
Drain Excess Liquid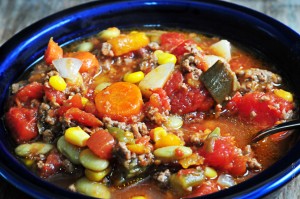 Slow cooking soups means not having to use as much liquid as regular soup recipes call for, so just keep this in mind. Evaporation will not occur unless you decide to take the lid off your slow cooker, but that kind of defeats the purpose. A good rule of thumb for adding your broth is to make sure your liquid covers your ingredients by about a half inch.
Use Your Heating Element Accordingly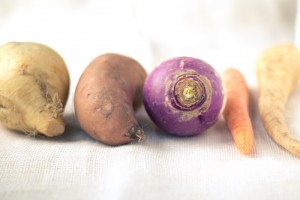 If you're concerned about certain elements in your soup not cooking through or needing more time to cook, just place those items on the very bottom of the slow cooker when you're putting everything inside. The closer they are to the heating element, the more heat they'll receive. Problem solved.
Get Your Timing Right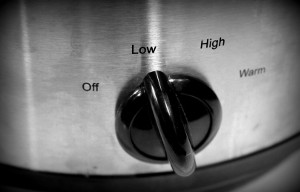 Depending on what ingredients are in your soup, you'll want to adjust the temperature and cooking time on your slow cooker. For most meaty soups and chilis with meat, you'll want to set your slow cooker to LOW cook for anywhere from 6-10 hours. For vegetarian soups, you don't want to cook them any longer than 4-6 hours, with a minimum cooking time of 2 hours, depending on what's in the soup.
Best of the Best: Editor's Top 10 Picks for Favorite Fall Slow Cooker Soups
At this time of year, a good soup guide is basically a must-have. Now that you've read ours, we'd like to get to the good part — recipes of course! Here is a list of recipes for some of our fall favorite soups.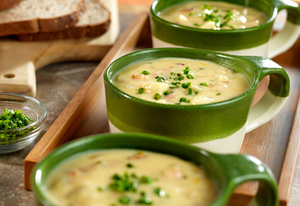 For even more fantastic soups to try throughout the year, make sure to visit our website.
 How About a Little Link Love?
While we're talking soup, our friends at The Kitchn posted a helpful guide to all things soup that we are dying to share with you! From making your own chicken and vegetable stocks, to achieving ideal textures and maximum flavor, along with other really great tips and recipes, this guide will surely save you from committing any future soup faux pas. Check it out here.
What are some of your must-have soup recipes for fall?
Latest posts by AllFreeSlowCookerRecipes
(see all)