Girl Scout Cookies are so good they have their own "season". Most people (including me) treat this period of time as a holiday, rich with chocolate and divine creations. But when it comes to a close and you can't find anymore boxes of the cookies, a wave of sadness descends. Fret not, you can now make Copycat Girl Scout Cookies that taste like the real thing in the comfort of your own home! On AllFreeCopycatRecipes.com we have a freshly updated eCookbook packed with easy cookie recipes that will recreate your favorite troupe's treats.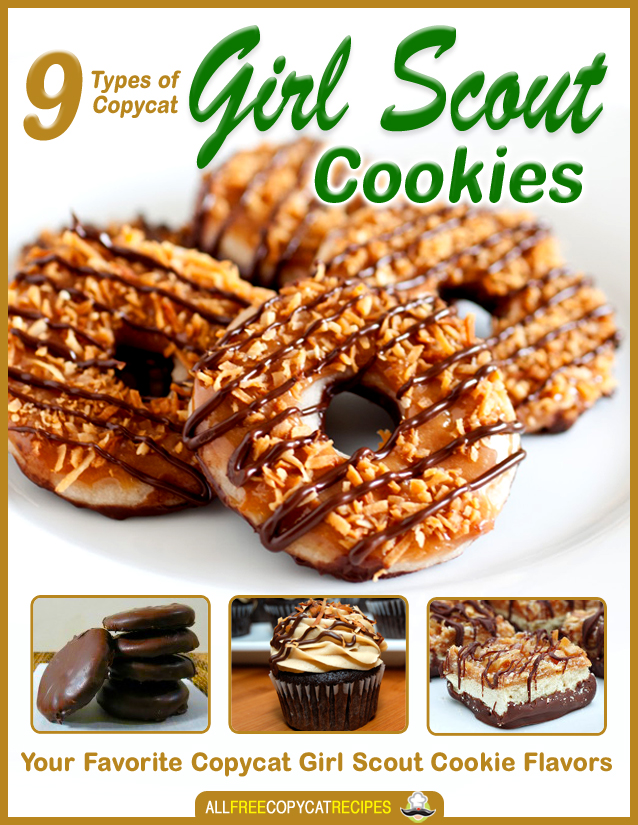 Copycat Thin Mint Recipes
The Girl Scout Thin Mint Cookie is a hot commodity when Girl Scout season arrives. Our free eCookbook includes all you need to bring back these crave-worthy cookies. Included in the eCookbook is a recipe for Copycat Thin Mints (pictured above left) that is spot-on with the beloved cookie. We not only have recipes for copycats, but also reinventions. Our 2-Ingredient Thin Mint Cookie Bark (pictured above right) has all the same flavors of the Thin Mint, but in the form of chocolate bark.
Copycat Samoa Recipes
The Samoas are also known as Caramel deLites in some parts of the country. Whatever you call them, we call them delicious! A shortbread bases is topped with caramel, chocolate, and toasted coconut. This epic combination of flavors is mimicked in our Copycat Samoa Cookies recipe (pictured above right). We included plenty of reinventions of the Samoa cookie. Our favorite is a recipe for Homemade Samoa Cupcakes (pictured above left). This cupcake recipe will wow friends when they bite in and taste the same flavors as the Samoa.
Copycat Tagalong Recipes
Tagalongs are also known in some parts as Peanut Butter Patties. Chocolate and peanut butter have met their match in these Copycat cookies. A shortbread cookie is topped with a frosting of peanut butter and a coating of chocolate. We included two recipes for you to whip up. Stop counting down the days until the cookies arrive and get baking!
Take a peek inside…
For more great cookie recipes, copycat recipes, and more free eCookbooks visit AllFreeCopycatRecipes.com.
What is your favorite Girl Scout Cookie flavor?
Latest posts by AllFreeCopycatRecipes
(see all)