With the hustle and bustle of the long work week, it is sometimes difficult to get a good filling breakfast. It's the most important meal of the day and some of us just don't have the time to enjoy great breakfast recipes. There's the demanding hours of work, there's the kids, maybe you have a dog or a cat, your alarm doesn't go off at the right time, the end of the world is occurring, there are so many reasons why you sometimes miss breakfast. But doesn't scrambled eggs with bacon and hash-browns sound great?
At RecipeLion headquarters, some of us also miss breakfast and settle for a breakfast bar or a bowl of cereal. So, what do we do? Do we just forget about one of our favorite meals? One of our favorite past times? Heck no! We do breakfast for dinner! We've searched the vaults of our collection and found some great breakfast recipes that are perfect for dinner. There's egg recipes, breakfast casseroles, french toast recipes, waffle recipes, you name it, we got it.
So, if you missed breakfast this morning or this entire week, do yourself a favor and make it for dinner.  There is a reason why it is the most important meal of the day it's so delicious. Don't miss out on these fantastic breakfast recipes…
Cheesy Bacon & Egg Brunch Casserole – This one-dish brunch casserole is ideal for a crowd. Add a fruit salad and you can sit back and enjoy your company.
Cinnamon Baked French Toast – We have the healthy baked french toast recipe you've been looking for. Made with greek yogurt, it's something new to try.
Easy Biscuits and Gravy – If you're running late for work and still want a breakfast staple this Easy Biscuits and Gravy is a must. With chunks of Jimmy Dean sausage, you can't go wrong.
Cinnamon Roll Waffles – Ordinary waffles are transformed into the extraordinary with this delicious recipe. When you top waffles with gooey buttery cinnamon sugar and a drizzle of cream cheese icing, your family will be begging for more.
California Hangtown Fry – A true American classic, this recipe for California Hangtown Fry is a breakfast lover's delight! With 8 strips of peppered bacon, 8 eggs, and a dozen fresh oysters (optional), this decadent dish is king among bacon and egg recipes.
Strawberry French Toast – Don't you just love French toast?  Fresh strawberries, a little powdered sugar, and you have the perfect dish to serve for Mom this Mother's Day.
Baked Egg Cups – Breakfast recipes are great for dinner! That's right, have breakfast twice a day with these great Baked Egg Cups with chicken sausage for a delectable treat. Make with your favorite hash browns and eat up.
Pecan Cinnamon Roll – There's nothing like the smell of a fresh baked cinnamon roll. This wonderful recipe  is topped with pecans and a sweet cream cheese frosting.
Bacon, Eggs, and Cheese Breakfast Cups – Coming from our friends at Adventures of Our Fami-Ly is this wonderful recipe. Packed with cheese, bacon and eggs you wont be able to stop at just one.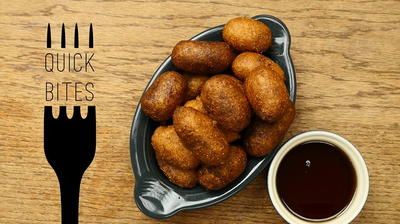 Homemade Breakfast Corn Dogs: Take your favorite country fair treat and make it for breakfast dinner.
Don't those look great?!  If you are looking for more ideas for breakfast recipes check out our free 29 Tasty, Easy Breakfast Recipes ebook.  We hope that you get to enjoy breakfast everyday, whether it is in the morning or at night.
How often do you do breakfast for dinner??
Latest posts by RecipeLion
(see all)