As anyone who has tried cooking at all knows, herbs and spices can either make or break your dish. If you don't use enough, your dish will be too bland, and if you use too many or use them incorrectly, then it's just a mess. Unless you have professional training as a chef, it can be difficult to figure out which herbs go together and how they mix with other ingredients.
We've put together an herb guide that will make your life in the kitchen infinitely easier. You might want to bookmark this post and keep it handy for the next time you venture into the kitchen. This list of herbs and spices is going to make your healthy recipes so much more flavorful and delicious. There is nothing stopping you from eating food that is healthy and delicious at the same time.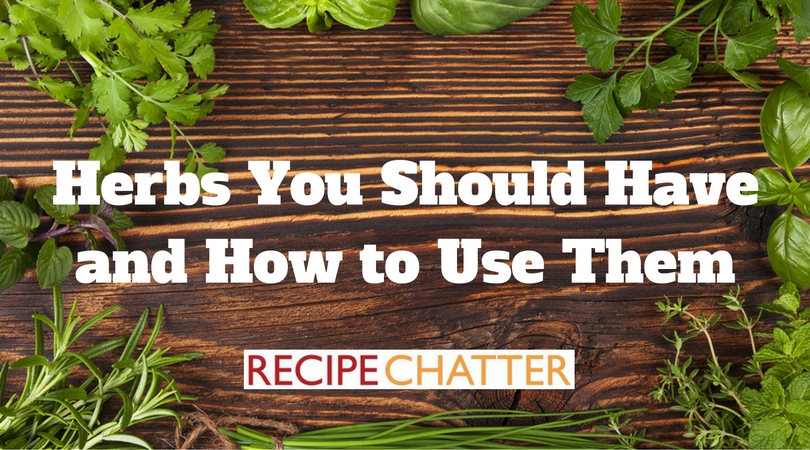 1. Basil
Basil complements white meats, roast beef, turkey, lamb raspberries, and strawberries.
You can use it as a garnish, make it into a pesto sauce or mix it into your tomato sauces, add it to your stir fry, or add it to just about any Italian dish.
Some complementary spices and flavors are thyme and oregano, fennel and oregano, and tomatoes.
Oils that will taste best with basil are grapeseed, sesame, olive oil, walnut, canola, and safflower.
2. Dill
Dill complements salmon, yogurt, carrots, and cucumbers (you've probably had it in a cucumber salad).
Add dill to your borscht and other stews, vegetable salads, pickles, and cottage cheese.
Complementary spices and flavors: mustard, pepper, cinnamon, allspice, bay leaves, mace, cloves, ginger, chives, and parsley.
Oils that taste best with dill are canola and safflower oil.
3. Mint
Mint is an interesting herb that will taste great with chocolate, fruit, peas, potatoes, and pork.
Since it tastes sweeter than other herbs, add it to your frosting, jellies, cakes, and pies.
Complementary spices and flavors to pair with mint are ginger, cayenne, cumin, lemon verbena, and chamomile.
Oils that will mix best with mint are canola, safflower, walnut oil (for dressing), and coconut oil.
4. Oregano
Chances are you've had a lot of oregano especially if you enjoy Italian food, beef, chicken, fried fish, pork, roast beef, or turkey.
Add oregano to any of the above foods, tomato sauces, and pizza.
Complementary spices and flavors: chili, bay leaves, marjoram and thyme, fennel and basil.
Oils that taste best with oregano are canola, safflower, and avocado oil.
5. Rosemary
Rosemary complements the following: tomatoes, spinach, roast meats, mushrooms, beef, grilled fish, pork, roast beef, turkey, cauliflower, and potatoes.
Add rosemary to a sauce for a more subtle taste and to poultry stuffing.
Complementary spices are oregano, thyme, and garlic.
Oils that will taste best with rosemary are canola, safflower, olive, and corn oil.
6. Sage
Add sage to sweet fruits and vegetables (like squash or apples), sausage, cheese, beef, fried fish, pork, and turkey.
Sage's flavor holds well when it's cooked for long periods (i.e., when you cook a turkey on Thanksgiving). It also tastes great with sausage, pork roast, hamburgers, and in stuffing.
Add lemon and winter savory (an herb in the mint family) to complement sage.
Oils that work best with sage are canola, safflower, and avocado oil.
7. Tarragon
Tarragon isn't one of the most popular herbs, but it tastes delicious with chicken, fried fish, pickles, and tomatoes.
Add it to sauces for meats and vegetables, egg and cheese dishes, and green salads.
"Fines herbes" are a combination of herbs that forms a mainstay of French cuisine. The combination of herbs is parsley, chervil, chives, parsley, and tarragon.
Use canola, safflower, or avocado oil when cooking with tarragon.
8. Thyme
Use thyme when you're cooking with eggs, lamb, grilled fish, roast beef, turkey, or pork.
Add it to vegetarian dishes, and meals with beans or eggs.
Complementary spices are bay, rosemary, oregano, sweet marjoram, sumac, and cilantro.
Use canola or safflower oil when cooking with thyme.
9. Coriander
You might think that coriander leaves look similar to parsley. Use coriander in dishes with beef, chicken, grilled fish, pickles, or pork.
Add it to apple pie, stuffings, sausages, green salads, and when you're baking.
Complementary spices are ginger, cinnamon, cumin, cardamon, allspice, and nutmeg.
The oils you should use when cooking with coriander are canola, safflower, and sunflower oil.
10. Parsley
Parsley is often used as a garnish, but it can also be used to flavor fish, chicken, potatoes, vegetables, and eggs.
Add parsley to your pasta dishes and soups.
The best spices to use with parsley are basil and chives, and tarragon.
When cooking with parsley, use canola oil, safflower oil, or butter.
What do you think? Do you have any spices that you always use?
Latest posts by FaveHealthyRecipes
(see all)