This post is brought to you by Anjali Shah, creator of The Picky Eater blog. Anjali creates and writes about healthy food that she claims is "husband approved."
10 Quick Tips to Detox: Mentally and Physically
Eat mostly plants (as Michael Pollan would say) and try going vegetarian for the day or the week (or stick to smaller portions of lean meat)
Eat organic foods (non-GMO, pesticide-free)
Try my 7 Day Plan for Clean Eating
Avoid packaged food products (which often contain toxic substances like artificial colors and preservatives)
Avoid secondhand smoke, and (while this is a longer term effort, that requires significant commitment) try to quit smoking
Drink plenty of water
Exercise! The best way to detox/get rid of toxins in your body is to sweat them out
Take deep breaths (inhale for 4 seconds, exhale for 6 seconds)
Try sitting still, in a quiet room, with your eyes closed for 3-5 minutes before you go to bed: this is a light form of meditation that can make it easier for you to let go of everything that happened during the day before you go to sleep (and try to get 7 hours of sleep at least every night!)
Drink this green smoothie recipe every morning as part of your breakfast: it will rejuvenate and energize you for the day. You can enjoy it for breakfast or with a green salad and some protein at lunch – make it a green meal!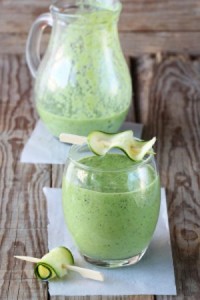 Energizing Green Smoothie
Makes 3 servings; Each serving: 100 calories, 3.5g fat, 18g carbs, 4.6g fiber, 1.9g protein
Note: For added fiber and protein, you can throw some ground up flax seeds in there as well!
The Ingredients
4 leaves of kale (1-2 cups chopped)
1 small apple
1 small pear
1 Tbsp almond butter (all natural, nothing added)
Unsweetened almond milk (4 oz)
Water (enough to make the drink smooth)
Ice – optional, for serving
The Directions: Put all of the ingredients in a blender – blend until smooth. Drink and enjoy.
Do you detox?
Latest posts by FaveHealthyRecipes
(see all)