Important news – We've found an easy dessert recipe even more American than apple pie. Don't believe me? Take a look at this: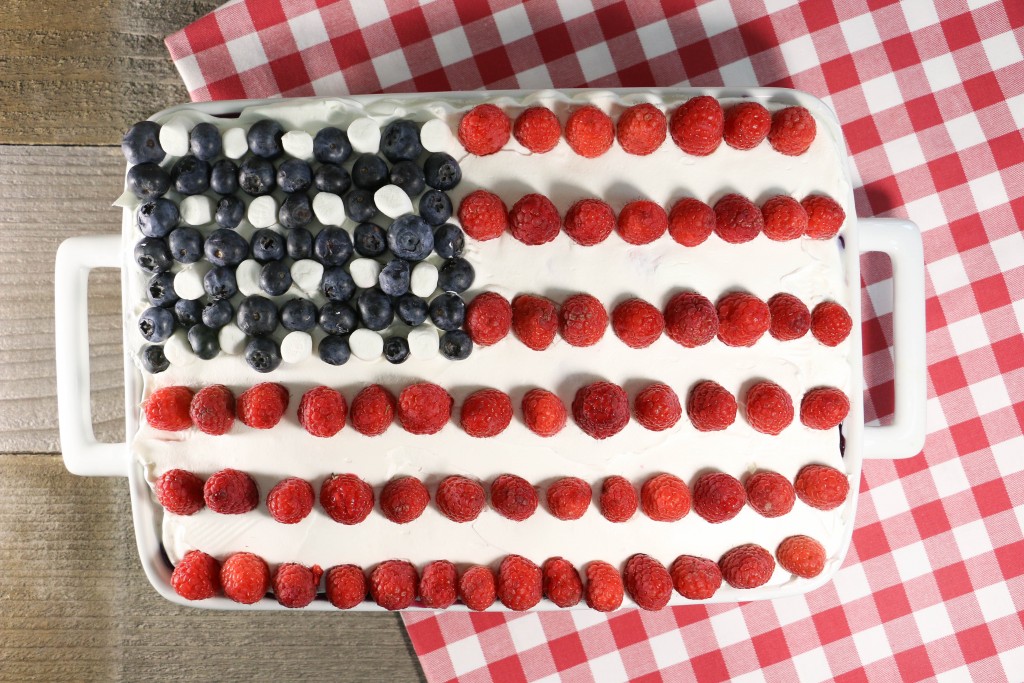 This beautiful, easy dessert recipe combines the fresh flavors of summer, strawberry and blueberry, with sweet Red Velvet cake mix and a refreshing whipped topping. When it comes to cake mix recipes, this one has us pledging our allegiance.
When it comes to feeling patriotic, Americans picture one symbol above the Statue of Liberty or the White House – the American Flag. The Stars n' Stripes have served us well over the centuries, representing the union of our many states. For those who serve in the military, it means even more than what's on the map. It stands for freedom and sacrifice.
Whether you're celebrating Memorial Day or the Fourth of July, this gorgeous ode to Old Glory will be the star of your potluck, that's for sure. Look no further for the perfect Memorial Day recipe or Fourth of July recipe.
American Flag Cake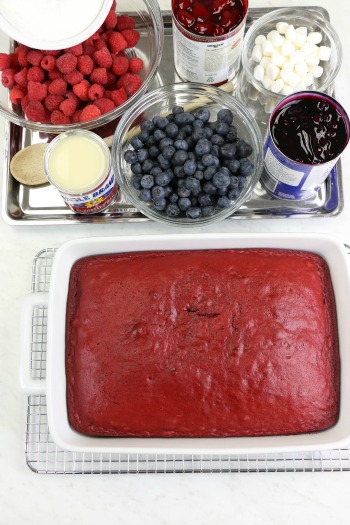 Serves 18
NOTES: You cannot turn this cake out of the pan to decorate and serve it because of the milk which soaks the cake, so plan to use an attractive bake dish if possible.
Ingredients:
1 package Red Velvet cake mix and the ingredients required to prepare it
1 14-ounce can sweetened condensed milk (Eagle Brand)
1 cup from a can of blueberry pie filling
1 cup from a can of strawberry or cherry pie filling
1 8-ounce container of thawed whipped topping
fresh raspberries and blueberries and miniature marshmallows for decorating
Instructions:
1. Preheat oven to 350 degrees F. Spray a 9 x 13 bake dish with cooking spray.
2. Prepare and bake the cake according to the package directions. Cool on a cooling rack until bottom of the bake dish is room temperature. Use the end of a wooden spoon handle to poke holes evenly spaced throughout the cake – about 30 holes. Pour the milk over the cake and chill for 20 minutes to allow the milk to soak into the cake.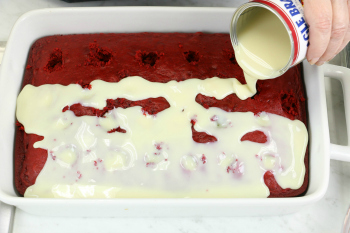 3. Spread the blueberry filling evenly on top of the cake followed by spreading the strawberry or cherry filling, smoothing it as much as possible with a rubber spatula.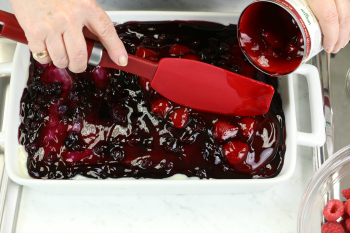 3. Spread the whipped topping very carefully over the top, pushing to the edges and corners of the pan.
4. Decorate the top with rows of raspberries to form the stripes and fill a 5-inch square in the upper left corner with alternating blueberries and marshmallows to make the star field.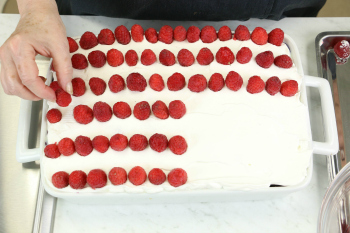 5. Chill the cake in the refrigerator, covered lightly with plastic wrap, for at least 4 hours before cutting to serve. Store any left over cake in the refrigerator.
What else will you serve at your patriotic celebration?
Latest posts by RecipeChatter
(see all)