This week, the AllFreeCasseroleRecipes Test Kitchen tried out a blend of traditional Amish recipes for cabbage casserole. Cabbage has been popular in fall comfort food and is often found in Pennsylvania Dutch recipes. We thought this Amish Cabbage Noodle Casserole was a great way to honor the tradition of Amish cooking. This hearty side dish would work well for a family get-together, but you can easily upgrade it to a main dish by adding meat.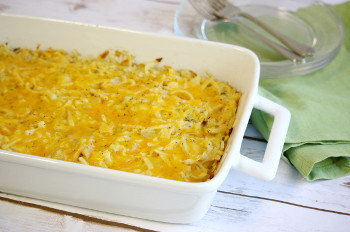 So, what is Amish cooking and what makes it so good? At its heart, Amish food is about tradition. Recipes are handed down from generation to generation and aren't usually written down. Instead, these recipes are passed through word of mouth. Many times, recipes include ingredients without specific measurements, as these recipes are supposed to be part of ingrained Amish knowledge.
While we probably have all heard of Amish Friendship Bread, Amish cuisine ranges from soups to casseroles to pies and so much more. Many recipes include meat and vegetables with uncomplicated seasonings – perfect for those that want to enjoy a good, home-cooked meal. These recipes are for simple, homestyle dishes that can be served at potlucks and other events, as well as for casual family dinners.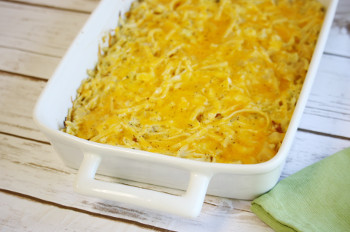 This Amish Cabbage Noodle Casserole has simple and subtle flavors. Egg noodles, cabbage, onions, and garlic make up the base of this dish. Using condensed cream of potato soup as a shortcut, you can make a halfway homemade sauce that tastes great combined with the other ingredients. Top with a bit of cheese and pepper and your dish is done. It's that easy!
Our favorite part of this casserole is the unique kluski egg noodles. These Pennsylvania Dutch noodles are denser than your average noodle and narrower, too. They add a special touch to this casserole. If you can find these noodles at your local grocery store, you've got to try them! If not, regular egg noodles will work just as well. To punch up the flavors in this dish, add more garlic and seasonings to taste.
---
Amish Cabbage Noodle Casserole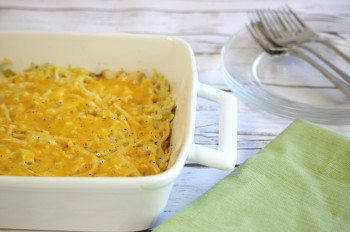 Ingredients
1 tablespoon olive oil
1 tablespoon butter
1/2 head green cabbage, shredded
1 medium onion, chopped
2 cloves garlic, minced
1 tablespoon fresh parsley, minced
1/2 package egg noodles or kluski noodles
1 can condensed cream of potato soup
1 cup milk
1 cup shredded mild Cheddar cheese
Ground black pepper
Directions
1. Preheat oven to 350 degrees F. Spray a 9 x 13 inch baking dish with nonstick spray.
2. In a large skillet, heat olive oil and butter over medium heat. Saute cabbage, onion, and garlic until cabbage is wilted, but not browned. Remove from heat and stir in parsley. Set aside.
3. Prepare noodles according to package directions. Cook until just al dente.
4. Meanwhile, combine cream of potato soup and milk in a small saucepan over medium heat. When sauce becomes a smooth mixture, remove from heat.
5. In a large bowl, carefully toss noodles, cabbage mixture, and sauce together until thoroughly mixed. Pour into prepared baking dish.
6. Sprinkle cheese and a pinch of black pepper over the mixture. Cover with foil and bake for 30 minutes.
---
If you like this Amish Cabbage Noodle Casserole, you'll love other famous Amish recipes for things like Shoofly Pie, Pennsylvania Dutch Potato Filling, and Amish Ground Beef and Noodle Casserole. Find even more recipes in our collection of 12 Amish Food Recipes.
 What Amish recipes do you know?
Latest posts by AllFreeCasseroleRecipes
(see all)