Summertime calls for sweet, cool, and simple party-friendly recipes! You can toss together this Angel Fluff Salad in just a few minutes and your friends and family will devour it even faster!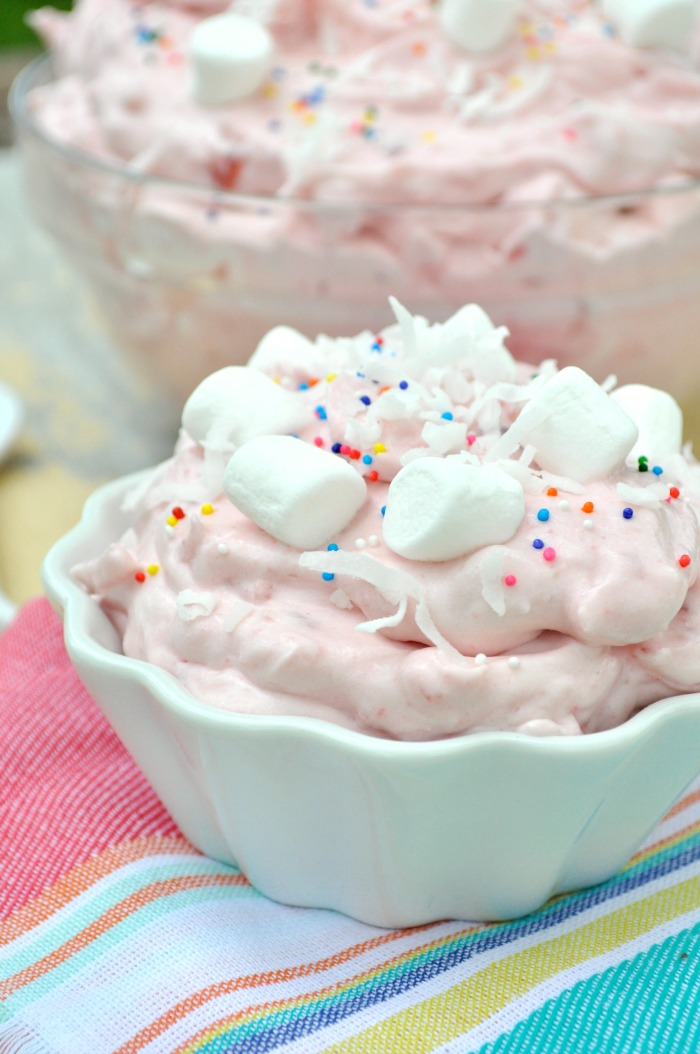 Hi, friends! I'm glad to be back this month from The Seasoned Mom with another sweet treat for you!
Once the temperatures rise, it seems like we have endless excuses to gather with friends for a barbecue, play date, or other celebration. No longer cooped up indoors to avoid the cold weather, we can get outdoors to celebrate holidays, visit with neighbors, and just let the kids run wild. And of course, there is always food involved!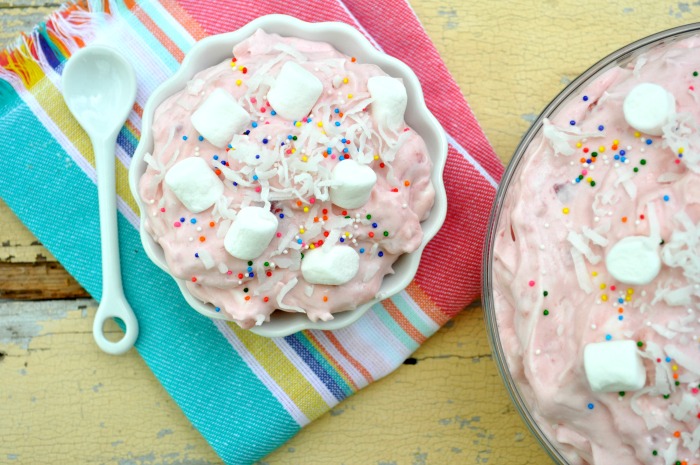 When it's hot outside, I don't usually feel like spending too much time in my kitchen and I definitely tend towards no-bake, grilled, or other easy recipes that don't require the heat of an oven. This light, sweet salad is just right.
While this "salad" is actually more like a dessert, I have certainly been known to serve it alongside a main course. Especially on holidays, a sweet fruit salad seems like the perfect accompaniment to a salty ham or a brunch spread. That said, creamy fruit salads like this Orange Pineapple Fluff Salad or this Blueberry Fluff Salad are also a perfect way to cap off a meal without weighing you down.
Whether it's a side dish or a dessert, you can decide! I do know that it's a great way to impress your friends at the next potluck…and your dish will disappear fast!
Angel Fluff Salad
Serves 4-6
Prep: 5 mins
Level of Difficulty: Easy!
Ingredients:
1 (20 ounce) can cherry pie filling
1 (14 ounce) can sweetened condensed milk
1 (8 ounce) can crushed pineapple, drained
1 cup sweetened flaked coconut, plus extra for garnish
1 cup miniature marshmallows, plus extra for garnish
1 (16 ounce) container frozen whipped topping, thawed (or 2 8-ounce containers)
Optional: rainbow sprinkles
Instructions:
1. Combine first 5 ingredients in a large bowl.
2. Gently fold in the whipped topping until completely combined.
3. Refrigerate until ready to serve.
4. Garnish with additional marshmallows, coconut, and rainbow sprinkles (optional) before serving.
How do you enjoy your fruit salad? As a side dish with other savory main course options? Or as a light dessert?
Latest posts by Blair Lonergan
(see all)