Hi there! Holly here from Club Crafted again with the easiest recipe you'll make this season. Dump cakes are the crowning jewel of easy recipes, so they make great party dishes in a pinch, and this delicious apple dump cake is no different.
Baked in a casserole dish, you can make this cake with only THREE ingredients thanks to the amazing invention of boxed cake mix. Served warm, this recipe has a texture similar to an apple crumble but with about one-fourth of the effort. Personally, I think it's best topped with ice cream and a little caramel, but even plain, it tastes delicious. You can't go wrong with a recipe as easy as this one, and the flavor of the spice cake brings you right back to the holidays.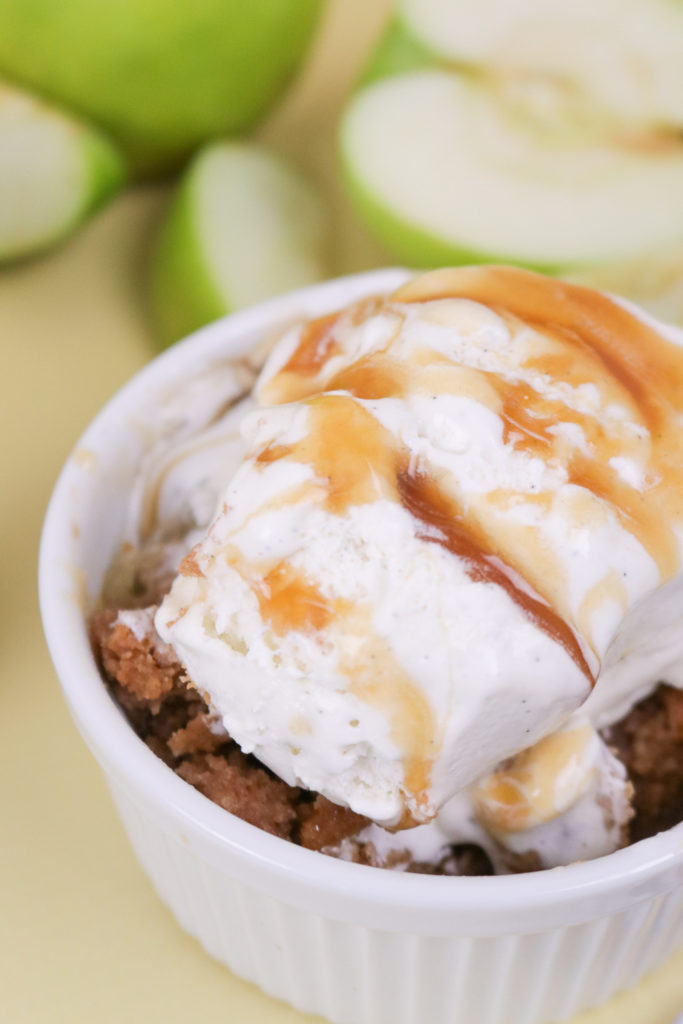 Ingredients:
1 box spice cake mix
1 cup butter, melted
1 1/2 cans apple pie filling
Preheat the oven 350 degrees. Spray a casserole disk (about 13×9 in) with cooking spray.
Pour the apple pie filling into the prepared pan, spreading out with a spatula. In a bowl, combine spice cake mix and melted butter and stir with a spoon until mixed. Pour on top of the apple filling and spread out with a spatula.
Bake for about 45 minutes until the top is lightly browned and a toothpick inserted into the middle comes out batter free. Let cool for about ten minutes.
Scoop the cake into bowls or ramekins (warm is better!) and top with a large scoop of vanilla ice cream. Top with a sprinkle of cinnamon or drizzled caramel and dig in! It's just as good as an apple crumble or apple pie without the effort!
Latest posts by Holly Wade
(see all)