BONUS! Just updated with more great bread recipes!
Every time fall rolls around, I get bitten by the apple bug. Sure I enjoy eating apples during the summer, but when the seasons turn you bet I'm baking those Granny Smiths into warm, cinnamon-y treats. Pull-apart bread recipes have been a trend for some time now, and for good reason. Especially if you're entertaining, or just want a snack, pull-apart bread is the perfect solution. Whether you're a fan of savory, like pizza pull-aparts, or sweet, like cinnamon pull-apart bread, they're all easy to make and great for sharing.
I had seen recipes for apple pull-apart bread, but I wanted to make a version with fewer ingredients. This shortcut recipe for pull-apart bread uses frozen dinner rolls to cut down on time and effort. The bread only takes five ingredients and is delicious by itself, but I recommend covering it in a simple glaze.  There's no better way to celebrate the start of the fall season than with this delicious Gooey Apple Pull-Apart Bread recipe. And now that you have chosen the perfect dessert, check out Recipe Chatter's Free eCookbook – Slow Cooker Fall Favorites: 21 Fall Slow Cooker Recipes for dishes that will be complete your fall feast.
Here's how to make this delicious pull-apart bread. Click here to print out the recipe and save it for later!
Gooey Apple Pull-Apart Bread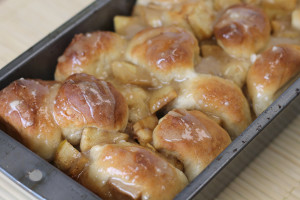 Ingredients:
12 frozen dinner rolls
2 Granny Smith apples, chopped (and peeled, if you prefer)
1/3 cup brown sugar
1/2 teaspoon cinnamon
3 tablespoons unsalted butter, melted and divided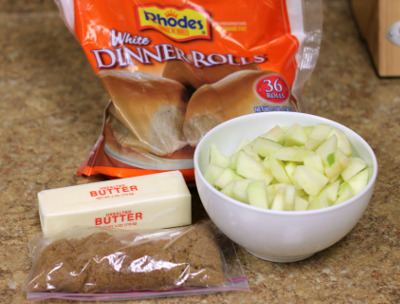 How-To:
Preheat oven to 350 degrees F and spray an 8 x 4-inch loaf pan with cooking spray.
In a medium mixing bowl, mix apples, cinnamon, sugar, and 2 Tbsp butter.
Using kitchen shears, cut each roll into fourths and roll them into balls with your hands. Place 10 small rolls on the bottom of the pan.
Drizzle half of the remaining melted butter over the rolls. Cover with half of the apple mixture, and repeat layers until the ingredients are used up.
Let rise for about 1 hour, or until the rolls have doubled in size.
Bake for 35 minutes, or until brown on top.
This is what the pull-apart bread looked like before going into the oven: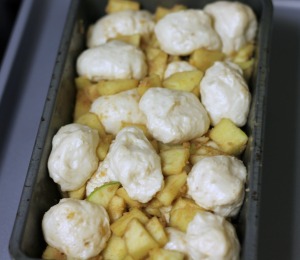 For the Glaze:
Ingredients:
1 tablespoon unsalted butter, melted
1 tablespoon brown sugar
3/4 tablespoon milk
1/2 cup powdered sugar
How-To:
Mix together butter, brown sugar, milk, and powdered sugar. You may need to add more powdered sugar to get desired consistency.
Pour all over the top of the bread.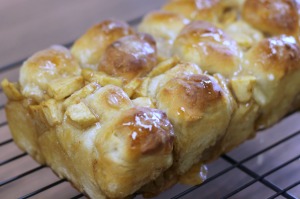 Does it get much easier than this?! You don't even have to peel the apples if you don't want to.  Although the top of the bread gets brown, it's necessary to leave it in the oven so the center gets done. If you want, cover it loosely with aluminum foil and continue baking. Mine had a slight brown on the top, but it still tasted soft, gooey, and delicious!
This can also be made using crescent rolls layered vertically in the pan with sliced apples instead of chopped! You can also choose to make this in a Bundt pan, which is called monkey bread. Want to join the pull-apart craze? Here are 11 Addictive Pull Apart Bread Recipes that you won't be able to get enough of.
Updated Jan. 23, 2015: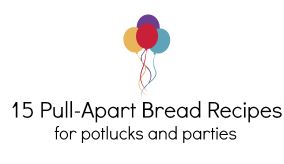 Love Pull Apart Bread Recipes? Check out our amazing list of 15 Pull-Apart Bread Recipes for Potlucks, including some all-stars like:
Do you prefer sweet or savory pull-apart bread? Tell us in the comments below.
Latest posts by RecipeLion
(see all)