This Dump and Bake Caramel Apple Crisp Recipe just might be the easiest and most delicious dessert that you will have all fall! Toss a few pantry staples into a baking dish with some fresh, sliced apples and pop it in the oven. Your house will smell amazing, and you will have a warm, bubbling, sweet treat in no time with this easy cake mix recipe!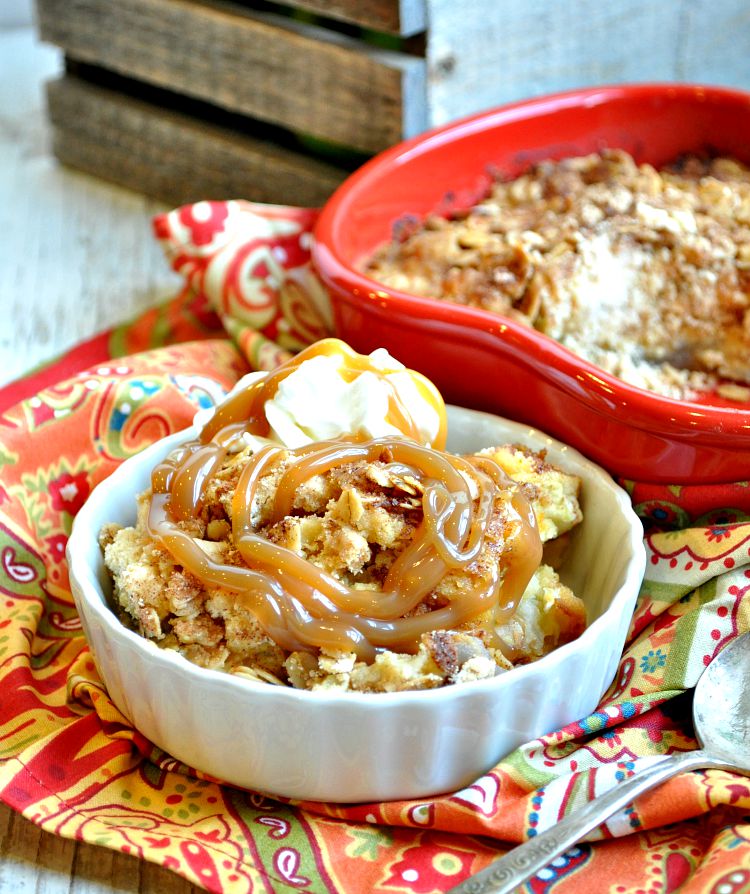 Apple season starts early here in Central Virginia and it's definitely my favorite time of the year! By the first week in August, the kids and I were out picking apples at our neighbor's orchard so that we could fill our bellies with applesauce, slow cooker apple butter, apple pie smoothies, and simple fall desserts.
I actually received this recipe last year from my sons' preschool teacher. The boys' class made this as a group one morning during their Apple unit and Gibbs and Casey jumped in the car at lunchtime raving about it. They were so excited that they had made their own dessert AND that it actually tasted delicious. Trust me: this recipe is so easy that even 3-and-4-year-olds can do it!
The early apple varieties in our part of the country include Ginger Gold and Rambo apples, so that's what we used here. Just about any type would work, though, so feel free to use whatever you have nearby (and a mixture of a few different varieties is nice).
Once the apples are sliced and placed in the bottom of a dish, it's just a matter of sprinkling a boxed cake mix, oats, spices, and butter over the top. No stirring necessary!
After some time in the oven, the top will become a crispy and fragrant golden crust over tender, sweet apples. Drizzle with caramel sauce and garnish with a scoop of vanilla ice cream — in my opinion, autumn doesn't get any better than that!
Dump and Bake Caramel Apple Crisp Recipe

Author:
Prep time: 10 mins
Cook time: 45 mins
Total time: 55 mins
Ingredients:
7-8 apples, (peeled or unpeeled is fine) sliced
1 (15.25 ounce) box yellow cake mix
½ cup Old-Fashioned oats
1 stick butter, melted (plus additional, as necessary)
2-3 tablespoons cinnamon-sugar blend
For serving: caramel sauce, vanilla ice cream or whipped cream
Instructions:
Preheat oven to 350 degrees F.
Spray a 13-inch by 9-inch baking dish with cooking spray.
Spread sliced apples evenly in bottom of prepared dish.
Sprinkle dry cake mix over the apples.
Sprinkle oats over apple mixture.
Drizzle with melted butter.
Sprinkle with cinnamon sugar.
Bake for approximately 45 minutes, or until apples are soft and top is golden brown.
If some of the cake mix still looks dry, place a pat of butter over top of any remaining dry spots and put dish back in the oven until butter melts and top browns.
Allow to cool slightly before serving, but this is best served warm!
Top with whipped cream, vanilla ice cream, and/or caramel sauce.
If you're looking for even more tasty apple recipes, try an Apple Pie Smoothie, some Slow Cooker Apple Butter, or some Brown Sugar Cinnamon Apple Dumplings.
What's your favorite way to enjoy fresh apples? 
Latest posts by Blair Lonergan
(see all)