We could all use a bit of luck every now and again. That's why I love St. Patrick's Day and St. Patrick's Day desserts!
There's just something about St. Paddy's Day that makes it different from all of the other holidays. It's happy-go-lucky and fun without having any real expectations or obligations. For instance, I love Christmas, but with Christmas comes the stress of baking Christmas cookies and buying a boatload of gifts. St. Patrick's Day is different. I don't have to buy anything for anyone if I don't want to. I don't even have to bake anything if I don't want to. All I have to do is wear green so that I don't get pinched (and even that is a choice, not a necessity). I wish more holidays were like this one.
Even though I don't have to bake (or no-bake, depending on the recipe), I still really enjoy whipping up St. Patrick's Day desserts. They're so bright and lively and green. Even the most classic Irish desserts are super cute or just really, really gooey. I'm all in for any and all St. Patrick's Day desserts. These are the treats I'm choosing between this year. As you can see, I have a lot of decisions to make.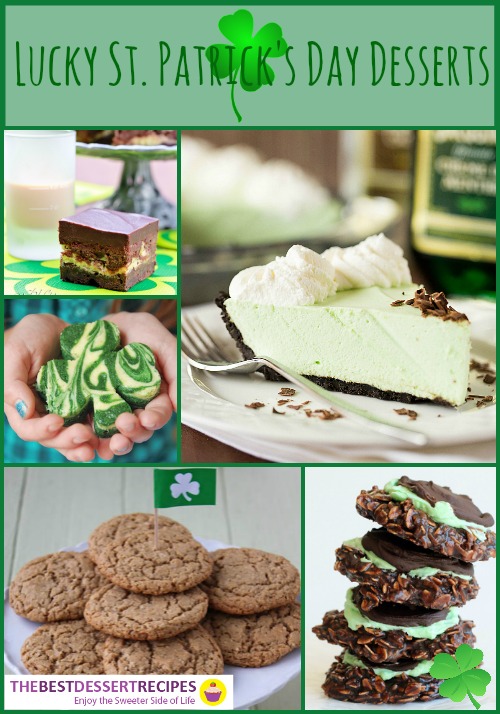 Mint Chocolate Treats
Sinful Mint Chocolate Chip Fudge
Best Ever Grasshopper Pie
Fudgy Mint Chocolate No Bake Cookies
Mint M&M Chocolate Cookie Bar
Amazing Mint Chocolate Cheeseball
Double Chocolate Chip Mint Skillet Cookie
Copycat Thin Mint No Bake Cookies
Guinness Black Bottom Mint Cupcakes
Mint and Chocolate Fudge Oreo Bars
Minty Pretzel Crisps
Layered Mint Chocolate Cookies
Baked Mint Chocolate Donuts
Other Sweet St. Patrick's Day Recipes
Velvet Cheesecake Shamrocks
Irish Car Bomb Cupcakes
Bottom's Up Irish Cream Poke Brownies
Make Your Own Shamrock Shake
Sinful Irish Car Bomb Brownies
Irish Triple Threat Cookies
Mini Rainbow Cupcakes – Now all you have to do is find the pot of gold! 😉
Guinness Cupcakes with Bailey's Icing
End of the Rainbow Cake
Classic Irish Desserts
Irish Apple Cake with Custard Sauce
The Best Irish Soda Bread
Classy Irish Lemon Pudding
Irish Black Ginger Cake
Irish Soda Bread Cookies
Do you usually make St. Patrick's Day desserts or do you just buy them from the store? Let us know below in the comments!
Latest posts by TheBestDessertRecipes
(see all)