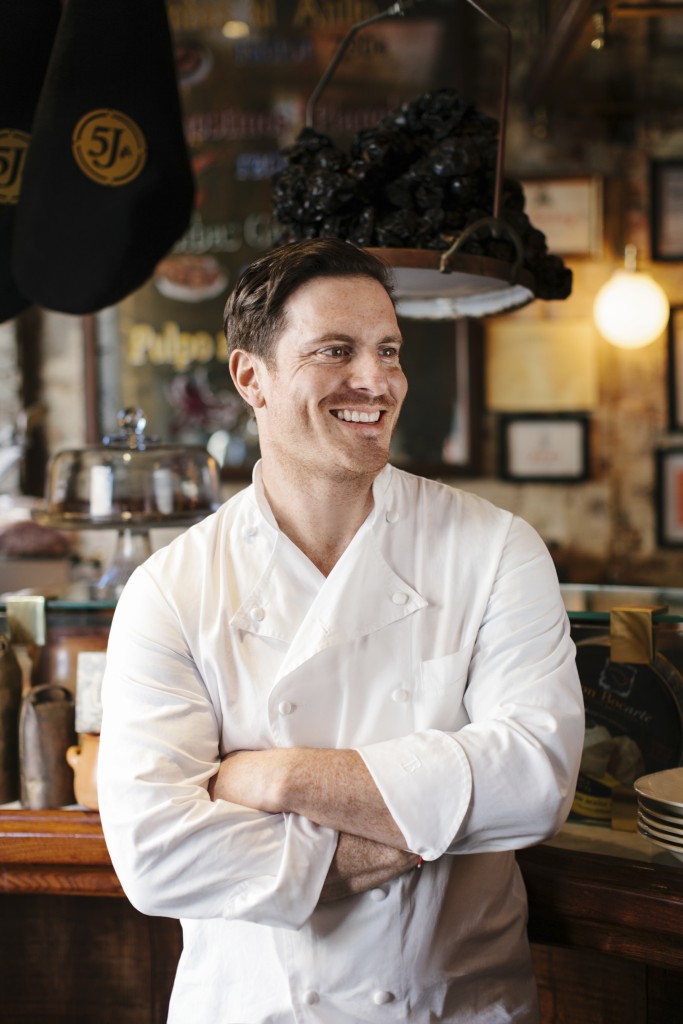 There's more to healthy cooking than the ingredients. For those living with rheumatoid arthritis, cooking can take a toll on the body.
Seamus Mullen, award-winning New York chef seen on The Next Iron Chef and Chopped, said "cooking is really a full-body activity, if you think about it – you're using your hands mostly but you're also standing the whole time. All the joint aches and pains can make it challenging to lift heavy pots and pans, to maneuver kitchen tools, or holding a knife steady. Being a professional chef, standing on your feet for 12 to 16 hours a day is physically exhausting for anyone, but having rheumatoid arthritis made it that much more difficult."
Mullen, restaurateur and cookbook author, is an advocate for living a healthy lifestyle. After being diagnosed with rheumatoid arthritis in 2007, Mullen said he has improved his health by eating better, exercising regularly and incorporating healthier lifestyle choices in everyday life.
May is National Arthritis Awareness Month, and Mullen shared his tips for managing arthritis pain with RecipeChatter.
How does rheumatoid arthritis impact your life?
I was officially diagnosed with RA in 2007, but looking back I was probably struggling with it for several years without realizing it. At the time, I was a young cook working my way up in the kitchen and logging insane restaurant hours; I just assumed all the aches and pains must be from working too much. It had a huge impact on my life for many years – there was no part of my body that didn't hurt at all times: putting my shoes on hurt; standing in the kitchen hurt, sitting in the wrong kind of chair hurt, flying and traveling was an ordeal. So it's been a long, uphill journey, but I'm happy to say that in the last few years I've since reclaimed my health and today I feel better than I have in over 10 years.
What's commonly misunderstood about arthritis?
There are a lot of misconceptions about Rheumatoid Arthritis, which people often confuse with Osteoarthritis. RA is an autoimmune disease, and it is systemic, chronic inflammation, not simply joint pain. Also, it affects people of all ages – arthritis is more commonly known as afflicting people in their 50s and 60s and older, but RA affects everyone – people in their 20s and 30s, even children.
Do you have tips for pain management?
I definitely have some tips and tricks from living with RA for many years. For cooking, making things in large batches (soups, stews, sauces, one-pot meals) is an easy one – a little bit of extra time upfront saves you cooking a few meals throughout the week. For pain management, it's really important to recognize your limits, and not overdo it. For those times you do overdo it, or are really feeling the pain, regular massage and bodywork has been very helpful for me, and of course, a good amount of rest. To help avoid pain while cooking, utilize products that bear the Arthritis Foundation's Ease-of-Use Commendation Seal.
Can changing diet help with arthritis?
I believe it can. I can't say that it will cure arthritis, but I truly believe food and diet and lifestyle changes can have a remarkable impact on improving symptoms.
Are there ingredients that should be avoided when cooking / ingredients that help?
Ingredients that should be avoided are ingredients that everyone – RA or not – should avoid: processed foods, refined sugars, etc. Personally I also found that eliminating gluten and cutting down on my alcohol intake was very helpful – but everyone is different. Ingredients that everyone should have more of, especially those who have RA or joint pain, are good healthy fats – olive oil, avocados, grass-fed butter, oily fish like sardines and anchovies.
What's your hope for others living with arthritis?
I hope people with arthritis can continue to enjoy cooking because one, food is medicine. Food is a huge part of how I got better. Eating the right food and treating your body well is the best thing you can do for yourself. Two, I firmly believe that cooking,  gathering friends and family over a meal, those things bring joy and pleasure to our lives, and joy is really important to our overall health.
Has a health concern impacted your cooking? Tell us about it in the comments.
Related Articles:
Latest posts by RecipeChatter
(see all)