With only three ingredients, this classic recipe for Tomato Aspic could not be easier! Aunt Bee is famous for her ladies' lunches, and this sweet and savory dish has been a crowd favorite for years. Best of all, it's even simple enough to serve with your next weeknight meal!
My mom's godmother, Aunt Bee, is a fine Southern hostess in the best sense of the term! She has served holiday meals, cocktails, and lunches to our friends and family for as long as I can remember, and her dishes always garner rave reviews. She has a knack for preparing simple, classic dishes in a delicious way. She knows which ingredients work best together, and she also knows some genius shortcuts to keep prep time in the kitchen minimal. Isn't that what we're all looking for?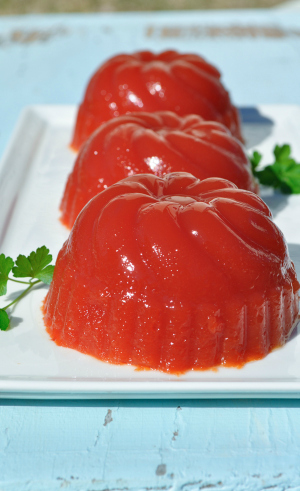 In my opinion, the best meals for entertaining are those that can be made in advance and that allow us to enjoy socializing at our parties, rather than slaving away in the kitchen. This recipe for Tomato Aspic is one of those gems!
It's a side salad that uses the fresh, sweet citrus flavor of lemon Jell-O and combines it with savory tomato juice. It's a unique pairing, but it really works!! I also love that it's a little bit different from some of the sweeter dessert salads that we also enjoy around the holidays, such as Orange Pineapple Fluff Salad and Traditional Ambrosia Salad. Variety is the spice of life, right?!
Over the past year, Aunt Bee has been sharing treasures from her past (and present!) with me — including fond memories of my grandmother (her best friend), her family's holiday traditions and keepsakes, and some of her most treasured recipes. I love the process of recreating Aunt Bee's classics in my own kitchen so that I can share the tastes and stories with my children. These meals are a connection to the past that will be carried on for generations.
In fact, the individual molds that I used to make the aspic actually belonged to my grandmother. My own mom used them, and now I can enjoy them as well. Again, just another small way to connect with my past!
I have shared a number of Aunt Bee's best recipes on my own blog in recent months; however, this Tomato Aspic is probably her most "famous" recipe among my mom's friends. It is one of her signature sides and it's something that guests look forward to enjoying whenever Aunt Bee entertains. Today, I'm sharing her secret with you, and trust me: it's about as easy as it gets! Just another reason that I consider this lady a culinary genius…
Aunt Bee's Tomato Aspic
Serves 4 (1/2-cup servings)
Prep Time: 10 minutes
Chill Time: 4 hours
Level of Difficulty: Easy
 Ingredients:
1 (3 oz) package lemon Jell-O
2 cups tomato juice
1 tablespoon grated onion
Grease the inside of 4 individual ramekins with butter or cooking spray. If you would like to use one larger mold, just double the recipe.
Heat tomato juice until bubbling (I just microwave the tomato juice for a few minutes).
Combine lemon gelatin mix with the hot tomato juice and whisk until gelatin is completely dissolved. Stir in grated onion.
Pour mixture into prepared molds and refrigerate for at least 4 hours, or until firm.
When ready to serve, remove aspic from ramekins by dipping in hot water and carefully running a knife along the inside of each mold.
On her blog The Seasoned Mom, Blair Lonergan documents life with her husband and three boys in Central Virginia's Piedmont countryside. She shares the simple activities that entertain her little ones, as well as the easy, nutritious, and family-friendly recipes that her kids devour!
For classic recipes that are a little on the sweeter side, take a look through our collection, 15 Vintage Desserts To Take You Back In Time. And make sure to try these old fashioned classics perfected in our test kitchen:
What are some of your family's favorite recipes? We would love to hear about other easy, delicious classics!
Latest posts by Blair Lonergan
(see all)