Can you believe we're already talking about going back to school? Summer just flew right on by, and we're already looking forward to back-to-school shopping and getting back into a regular routine. Between juggling soccer practice, tutoring sessions, and newspaper, it's a wonder the kids will have time to sit down to dinner at all, let alone you having the time to cook anything! The secret to fitting everything into your busy weeknight schedule? Using frozen and refrigerated foods as shortcuts for a homemade meal! By cutting out a few steps, you can still get the homemade meal you and your family love without spending hours in the kitchen!
Let's take a peek at a few of our favorite Test Kitchen shortcuts:
Breakfast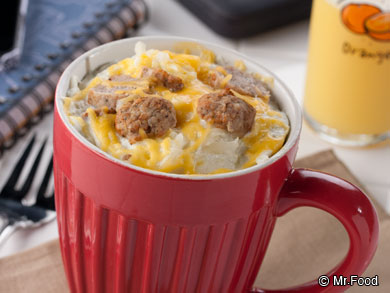 Breakfast in a Mug: Everyone always claims they don't have any time in the morning for a proper breakfast, but we bet you've got at least two minutes to spare, right? Our quick 'n' easy recipe for Breakfast in a Mug only takes two minutes to cook and is simple enough to make on your way out the door.
Our shortcuts? We use refrigerated egg whites and pre-cooked turkey sausage to skip out on some of that prep work.
Lunch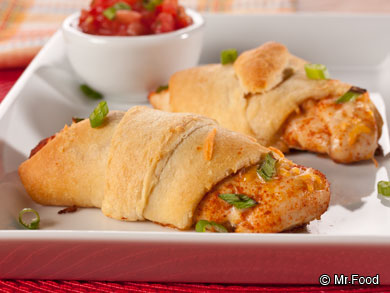 Taco Chicken Wraps: Who doesn't love a good taco? We love this taco recipe because it's much less messy than your typical taco recipe, making it easy to pack up in a lunchbox for kids of all ages! Cook 'em ahead of time, pack 'em away, and all you'll have to do is reheat them!
Our shortcuts? We use refrigerated crescent rolls as our "shell" to keep everything packed in nice 'n' cozy!
Dinner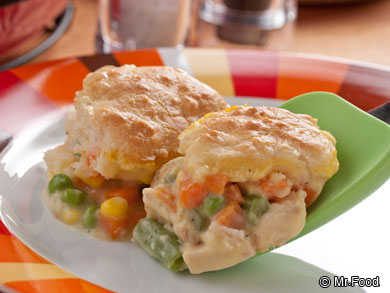 Mama's Chicken Pot Pie: We've made this classic easier to have anytime during the week with our shortcut, homemade version. If you only have time to cook over the weekends, feel free to make and freeze this ahead of time. It's just as good as the made-from-scratch version your Grandma used to make!
Our shortcuts? We use pre-cooked chicken and frozen, mixed vegetables to make it easier than ever to throw everything together!
Dessert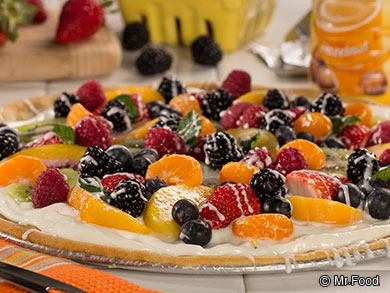 Tutti Frutti Dessert Pizza: It doesn't matter what season it is—you can enjoy your favorite fruits all year round! When the season's right, you can use fresh fruit to make this tart and flavorful sweet, or if you just can't wait, we like using frozen fruit so we can enjoy all our favorite fruity flavors any time of year!
Our shortcuts? Aside from using frozen fruit, we also use refrigerated sugar cookie dough as a crust, which really ties the whole dish together perfectly!
Snack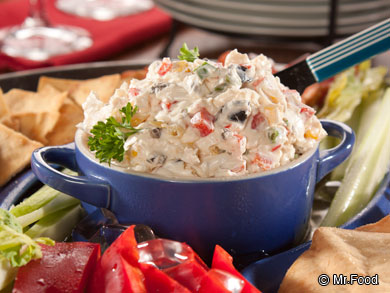 My Aunt's Veggie Dip: Come home from school or the office and treat yourself to a homemade vegetable dip that's positively addicting! We love serving this one alongside some pita chips or celery sticks 'cause that way, we don't feel so guilty about eating bite after bite!
Our shortcut? We mix in frozen corn, so we don't have to go through the trouble of cooking up corn on the cob.
Looking for even more great recipes for back to school? Then be sure to check out our FREE ecookbook, Cool Fuel for School: 30 Recipes for Kid-Friendly Meals, with our friends at the National Frozen & Refrigerated Foods Association, Inc.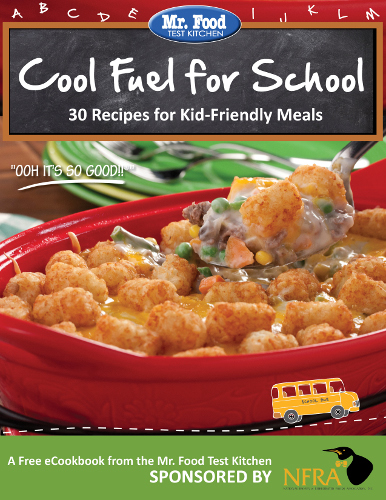 We want to know! What's your go-to back-to-school recipe? Let us know in the comments below!
Latest posts by MrFoodTestKitchen
(see all)