Big news on the blog today, readers!  We have a special treat for you.  Not only are we excited to share our brand new RecipeLion giveaway for a hot-off-the-press cake cookbook, Bake It Like You Mean It, we also had the opportunity to speak with the author herself, Gesine Bullock-Prado.  Bake It Like You Mean It is Gesine's third cookbook, released earlier this year. She has also written a baking memoir, My Life From Scratch, and cookbooks entitled Sugar Baby and Pie It Forward. Her work has been featured on the TODAY show, the Rachael Ray Show and on Food Network. She is the sister of Oscar-winning actress Sandra Bullock and currently lives with her husband in Hartford, Vermont.
Read all about Bake It Like You Mean It here and enter our contest for your chance to win a free copy!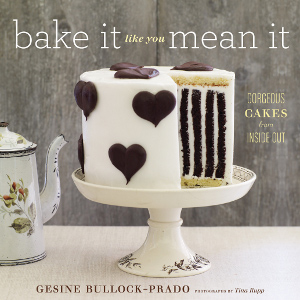 Keep reading for our exclusive Q&A session with Gesine and hear what she had to say about her baking inspiration, what one ingredient she'd bring with her to a deserted island, and how she once mistakenly thought an 80-year-old had a "bun in the oven!"  Whoops!

8 Questions for Gesine Bullock-Prado, Author of "Bake It Like You Mean It":
RecipeLion: How did you first get interested in baking/cooking?
Gesine Bullock-Prado: I was born interested in sweets and baking.  I can't remember a moment where I didn't want a piece of cake.  I even wrote a memoir about it, about my journey from sugar-obsessed kid to professional pastry chef called My Life from Scratch.
RL: What was the inspiration for Bake It Like You Mean It?
GBP: It's a representation of how I bake and teach baking.  It's more than cake, my book covers a range of types of baking that I feel are a must in every baker's kitchen from meringues to yeasted pastries.
RL: What are three must-make dessert recipes from Bake It Like You Mean It (though we're sure they're all delicious!).
GBP: I can't pick just three.  But I think it's smart to start with the simpler things first.  If you want a surprise in the middle cake that's also surprisingly easy, try the Lovers and Dreamers cake. The cake itself is incredibly delicious, the vertical stripes are beautiful and everyone loves a rainbow.  Macaron are a staple in any adventurous baker's repertoire.  And brioche is a must in the kitchen; there are so many things you can do with that one yeasted dough.
RL: Do you have any funny baking-related stories?  Any mishaps in the kitchen you'd like to share?
GBP: At my pastry shop, I had a very popular strawberry dream cake that I'd make in all manner of shapes for every kind of occasion.  I made one for a baby shower, a strawberry dream cake in the shape of a "baby bump."  Another customer saw the cake leaving the bakery, asked what it was, and ordered one for an upcoming event.  The employee took the order, writing the specifics on the order slip, it said, "Strawberry dream cake, just like the one you made for ____."  So of course I made another strawberry dream "baby bump" cake.  When the customer came to fetch the cake, the counter employee came back into the pastry kitchen and said, "Ann's here to pick up her mother's 80th strawberry dream birthday cake."  Uh oh.  I had to do the speediest cake surgery in pastry shop history because it was obvious that Ann's 80-year-old mother didn't have a bun in her oven.  The lesson we learned that day was to get ALL THE DETAILS when taking an order and to always be ready for emergency cake surgery.
RL: What one piece of baking advice would you give to new bakers?
GBP: Be patient.  Read the recipe through a few times before you get started.  Measure out ingredients and have everything at the right temperature before you get started, i.e. mis en place.  Preheat your oven before you get started.  If you aren't 100% sure about a technique that's called for in the recipe, do a little Google research before you get started.  And again, be patient.
RL: Any tips or tricks for making cakes?
GBP: Use the best ingredients available.  Pay attention to the details of the process.  If a recipe calls for the butter and sugar to be creamed to "light and fluffy," really take the time to reach "light and fluffy."  This can take a long time, longer than you usually want, but for a beautifully aerated cake this step is crucial.  This also leads me to stress that when a recipe calls for ingredients to be at a certain temperature, make sure that they are at the right temperature before you start.  These details are important and crucial to beautifully finished cakes.
RL: What is the most rewarding thing about baking and what do you find the most challenging?
GBP: Baking is magic.  Unlike cooking, where you can usually discern all the ingredients that you started with, "There's a carrot!   There's a chunk of beef!  There's a kernel of rice!," in baking you transform the individual ingredients completely to form something entirely new.  The butter, sugar, eggs and flour unite to make something all together different and transformed.  That's the beauty and reward of baking.  I think the challenge is that you really must be patient during the entire process, from mixing to baking to cooling to assembling, you can't fudge the steps and rush it along, otherwise the finished product won't be right.  So I always have scraps ready for tasting to keep me honest and on track.
RL: If you were stranded on a desert island and could only have one treat with you, what would it be and why?
GBP: I wouldn't bring a treat, I'd bring an ingredient.  I'd bring a supply of frozen butter, assuming I'd find other ingredients I'd need on an island based on how all desert islands are imagined.  So I'm guaranteed there's a coconut tree somewhere and a birdie nesting, that's enough for me to make a coconut cake whenever I like.
Thanks to Gesine for taking the time to talk with us and share all of her experiences and knowledge!  Don't forget to enter for your chance to win a free copy of Gesine's new cookbook!
Latest posts by RecipeLion
(see all)