This Baked Chicken Salad recipe is one of those recipes that just makes you feel good. It's delicious, it's easy to assemble, it's popular, and it looks as good as it tastes. Chicken salad is one of my all-time favorite foods – I like it on a salad, on a sandwich, by itself, and warm and bubbly, thanks to this family favorite recipe that we have been eating for the last twenty five years.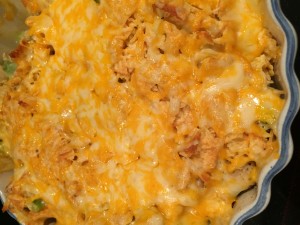 I have served this easy casserole recipe at baby showers, potluck dinners, luncheons, casual dinners with friends young and old, school nights, rainy nights, snowy nights, you name it. And it's great every single time.
This dish reminds me most, however, of Friday night dinners back in the late 1980's, when my sister and I were both cheerleaders for our mighty Manatee High School football team back in Bradenton, Florida. High school football is a big deal in Florida, like Friday Night Lights big.
All of the cheerleaders would get together for dinner before every home game to make sure we were fueled up and ready to get the crowd fired up for the big game. My mom made this dish for the first dinner of the season, and it was such a huge hit with the squad that she had to double the recipe and make it for every single game for the rest of the season. And we went to the state semifinals that year, so there were a lot of games – and a lot of very happy and well fed girls!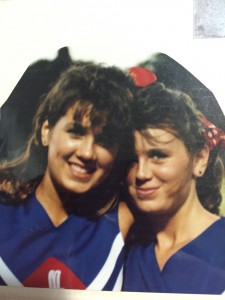 The best thing about this recipe, other than it's great taste, is that it's made from ingredients that you probably have in your pantry and your refrigerator. Campbell's soup, chicken, celery, onion, mayo, cheese and potato chips. YUM!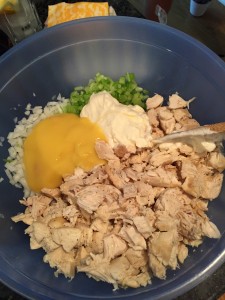 After cooking your chicken (I roast the chicken breasts in a 375 degree oven for 15-18 minutes), chop your veggies while the chicken is cooling off. I chop one onion and 3 celery stalks to get one cup of each chopped vegetables and pour them into a large mixing bowl. When the chicken has cooled off, chop it into small chunks and place the chopped chicken into the bowl. Add your can of cream of chicken soup, a squeeze of lemon and a half cup of mayo and mix it all together. After you pour the mixture into a baking pan, you get to have a little fun by smashing the potato chips by hand to form crumbs for the crunchy topping.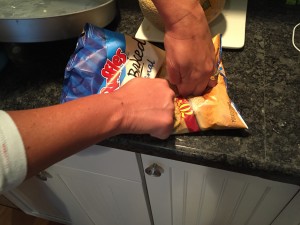 After crunching up the potato chips, sprinkle them over top of the chicken mixture and add the shredded cheese. Place the pan into a 350 degree oven for 20-25 minutes until the cheese is golden brown and bubbly. Take out, let cool slightly, and prepare to make your guests, family, or cheerleading squad very happy.
Baked Chicken Salad Recipe
Ingredients: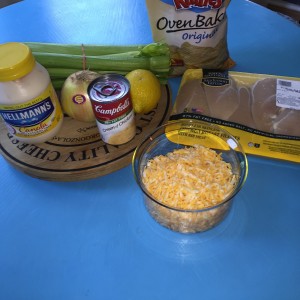 4-5 chicken breasts, cooked and cut into small chunks (I cook mine in a 375 degree oven on a cookie sheet for 18 minutes, drizzled with a little bit of olive oil and salt and pepper)
1 can cream of chicken soup (I use Campbell's 98% Fat Free)
1/2 cup mayonaise
1 cup chopped onion
1 cup chopped celery
Juice from 1/2 lemon
Salt & Pepper, to taste
1 & 1/2 cups crushed potato chips (I use Baked Ruffles)
1 & 1/2 cups shredded cheese (I used a colby jack blend, but any kind of good melting cheese would work great)
Directions:
1. Preheat oven to 350 degrees.
2. Cook your chicken and let it cool. While it's cooling off, chop the celery and onion, so that you have a cup of each. Pour veggies into a large mixing bowl.
3. Chop your cooked chicken into 1 inch chunks and pour the chopped chicken into the same mixing bowl. Then take your half of a lemon and squeeze the juice over top of the chicken and veggies. Watch out for seeds!
4. Pour the cream of chicken soup over the chicken, celery and onion, and then add your mayo. Mix until well combined and season with some salt and pepper.
5. Pour the mixture into a prepared baking pan (a 13 X 9 inch pan works great) and then sprinkle the crushed potato chips over the top. I just smash the chips while they are in the bag so my hands don't get greasy. Add the shredded cheese over the crushed chips and place the pan in the oven for 20-25 minutes. The cheese should be a nice golden brown color and slightly bubbly.
6. Take the pan out of the oven and let cool for a few minutes before serving. Scoop large spoonfuls on to your guests' plates and give them something to cheer about!
What's your favorite casserole?
Latest posts by Jennifer McKinney
(see all)