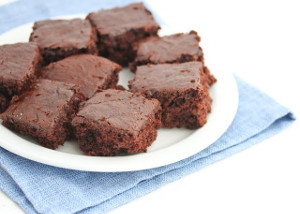 Classes are back in session for universities across the United States. For college kids who have graduated from making dorm room desserts and moved into apartments with kitchens, we thought we'd share some of the most important (and cheap) baking ingredients all students need in their kitchens!
Moving out of the dorms and into an apartment or house on/close to campus is a pretty big deal. You're graduating from a small space and a cafeteria with potentially questionable food to your own space and your very own kitchen! It's an exciting time for sure!
However, while you may still have some sort of meal plan, you're most likely cooking and baking for yourself now (which is both incredibly exciting and terrifying at the same time). I don't know about you, but I had very minimal cooking and baking experience when I moved into my first college apartment. My mom always made dinner at home and the only things I was skilled at baking were cookies and boxed brownies. That was it.
For months after I moved into my first apartment, I was too hesitant to bake. Why? Because I couldn't afford all of the different ingredients that I would need to make a variety of treats. Plus, my roommates and I didn't share any of our food, so I would have an entire sack of flour to myself. What's a girl to do with an entire sack of flour? There's no way I'd be able to make that many desserts while avoiding a sugar coma!
It took me quite a while to realize that not all desserts called for numerous ingredients. There's quite a selection of desserts that need five ingredients or less that are perfect for college kids (like the Two Ingredient Chocolate Coke Cake above!).
Anyway, there are a few ingredients that every college kid should stock in their kitchen. With these ingredients, so many dessert options are possible. Here are our top 10 suggestions for baking ingredients!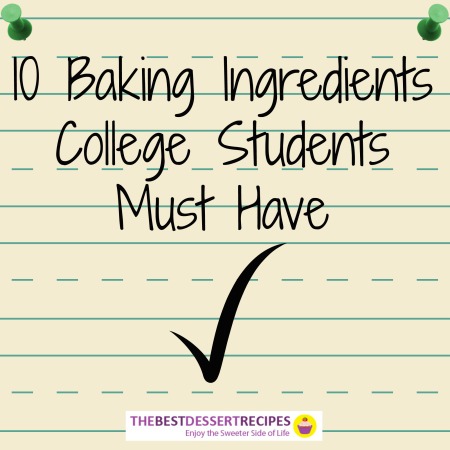 1. Flour
There's no real way around it. If you want to make cookies, you're going to need flour. That is, unless you buy packaged, pre-made dough but that can get pretty expensive. There are some recipes, like our favorite Criss-Cross Cookies, that need only flour and three other ingredients.
2. Unsalted Butter
Practically every dessert recipe calls for butter. It's a really handy baking ingredient to have on hand. You can buy boxes of them and just stick them in your freezer until you need them. Make sure to buy unsalted butter though. It's easier that way.
Tip: If you have to buy salted butter, just omit the salt in your recipe while baking.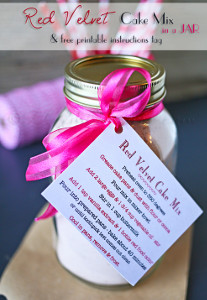 3. Sugar
"A spoonful of sugar makes the medicine go down!" Or, well, in the case of desserts, if they aren't sweet, they may not taste all that great. A sack of sugar should last you quite a while and help you make loads of treats for your friends (or club's bake sale!).
4. Baking Soda and Baking Powder
While you may be able to get away with not needing either of these leavening agents with some recipes, they're pretty handy to keep around. Especially if you've got a craving for homemade chocolate chip cookies.
5. Eggs
You need eggs to make cakes, brownies, and most cookies. This is pretty much a college student kitchen requirement. You probably have eggs on every one of your shopping lists anyway, so it's not like you're going out of your way to get some.
6. Cake Mix
There are SO many things you can do with cake mix. Bake cakes, cookies, pie crusts (really!)… the possibilities are endless when it comes to recipes with cake mix. Plus, a box of cake mix isn't too expensive which is really nice.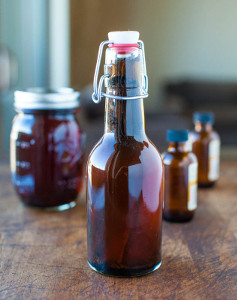 7. Vanilla Extract
Practically everything tastes better when you add a bit of vanilla extract to it. Seriously, try it! You're going to need vanilla extract for pretty much everything you'll want to bake that doesn't come out of a box. It's a great ingredient to have on hand and it lasts for a really long time so you won't have to worry about constantly buying more.
8. Brown Sugar
Sure, you can find recipes that don't call for brown sugar, but some of the best ones require it. If you keep it properly sealed, it'll last you quite a while. Besides, brown sugar comes in a variety of different box sizes so you don't need to buy a bunch all at once.
9. Canola Oil
You're definitely going to need oil if you want to make anything with cake mix. It's also useful just to have for cooking in general. For example, you can use it to make some cake mix cookies one day, and then a stir-fry the next. Canola oil is really versatile and a staple of any kitchen. Plus, it's cheap.

Other Baking Ingredients You May Want to Invest In
Chocolate chips
Sprinkles
Cocoa powder
Candles
Powdered sugar
Nutella
Cool Whip
Can you think of any other baking ingredients that college kids need to have in their kitchens?
Latest posts by TheBestDessertRecipes
(see all)