At Misericordia Hearts & Flour Bakery, staff, volunteers and residents wear their hearts on their bakery coat sleeves. Kali Kordewick, bakery packaging manager, said it's impossible to have a bad day at the bakery.
Misericordia Hearts & Flour Bakery is part of a larger community on Misericordia's 31-acre Chicago campus. Misericordia serves and houses more than 600 children and adults with mild to profound developmental disabilities, many of whom are also physically challenged.
Learn about our staff volunteer experience at Misericordia's Family Fest.
The bakery, which produces a little less than 1,000 bakery items per day, provides employment for over 50 residents who gain real work experience.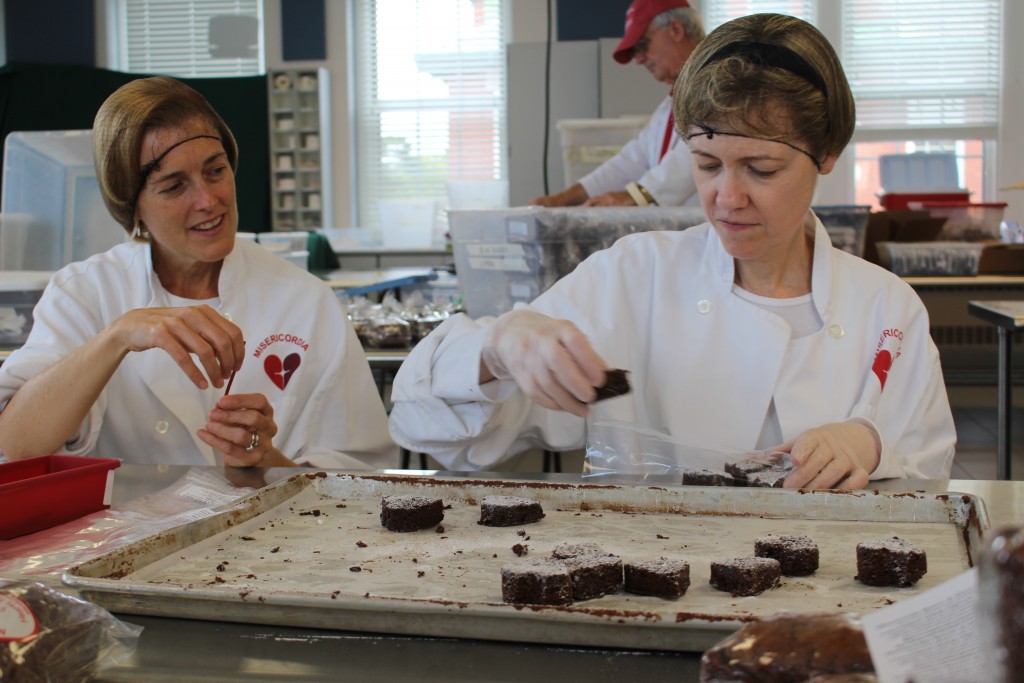 Kathy H., right, volunteers packaging brownies with her friend and fellow volunteer Laura.
The Hustle
On a busy Wednesday afternoon, Kordewick was spinning in her chair trying to ensure that a cake order reached its destination. Kordewick has been working at Misericordia for 4 years.
"It's a great place to work, I like the hustle and bustle of the bakery and seeing the new faces of the volunteers, "she said.
When the bakery began, it only produced baked goods and desserts for the Misericordia campus. "Sister Rosemary Connelly was the person to ask, 'How can we improve?' A team came together and thought they could sell gift boxes online. They had no idea who would see or buy them. They were prepared for about 500 gift box orders, but they ended up selling over 1,000 gifts." Luckily, they had extra help in place to handle it. "Now we have hundreds of volunteers per year between Nov. 1 and Dec. 22."
"I think we have a really unique situation – any other company with a large holiday workload has employees that know what they're doing. Here, at the Hearts & Flour Bakery, we do our best to train temporary staff and show the volunteers how to package our baked goods so that the presentation is a cut above and something that Misericordia can be proud of. The baked goods that any individual receives as a gift could be their first introduction to Misericordia and our mission and we need to make a good first impression." Kordewick said.
The bakery is connected to the greater Chicago community through regular Farmers Market visits around the city, Kordewick said. While they visit a variety of markets throughout the season, they regularly sell baked goods at Federal Plaza on Tuesdays and Daley Plaza on Thursdays, she said. They also make a birthday cake once a month for the residents of Hollywood House Retirement Community.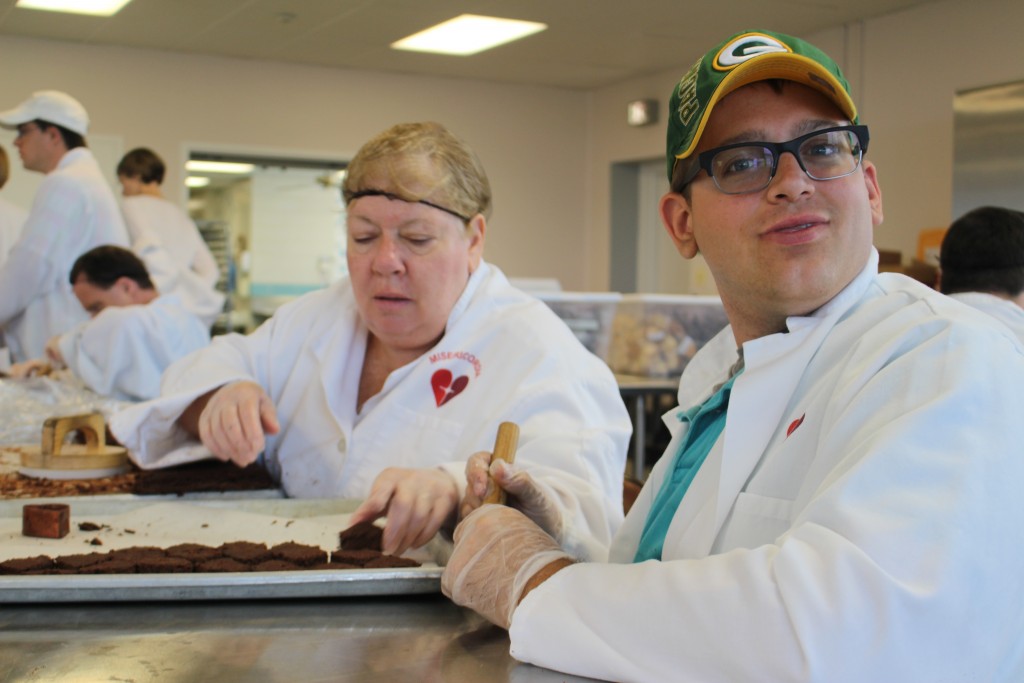 P.J., right, is a Misericordia resident who's worked in the bakery for three years.
The Mission
For the residents, "it's a job opportunity just like any opportunity in the world," Kordewick said. "For folks with developmental disabilities, abilities vary greatly." Some residents handle more complex tasks in the bakery like weighing flour and sugar or using the bread slicing machine, while others excel at applying ingredient labels and packaging the baked goods.
Megan, a Misericordia resident for 16 years, said she's worked in the bakery for three years and it's a good experience. "I work hard a lot. I like making brownies and cookies," she said.
Another resident, Alex, said "We all learn in here." He enjoys packaging fudge and is learning to scoop cookie dough. In the last year or so, five residents have found employment after gaining work experience at the bakery.
Misericordia employees working in the bakery provide structure for the residents. Developmental training instructors are responsible for helping residents achieve long-term goals like getting a restaurant job, while direct service providers help residents with everyday tasks and physical assistance.
Lenora Brown, direct service provider and employee of 13 years, said Misericordia is her second family. "People will say, 'Oh, you're such a good person to work there' but while I love it, it is a job, and I do get paid," Brown said. "The people who deserve praise are those who volunteer their time to come here, and are patient and kind to our residents and treat them like we treat each other. Everybody here is family. For the few hours volunteers are here, they're family."
Kathy H., volunteer, was packaging bread with her friend Laura. Kathy's sister has lived at Misericordia for 11 years. "It's really wonderful. My sister seems to feel independent and fulfilled," Kathy said. While her sister doesn't work in the bakery, she's found her passion in painting within Misericordia's art program, Kathy said. Kathy volunteers in the bakery occasionally. "You can come in feeling tired or stressed, but I never leave this campus without a smile on my face," she said.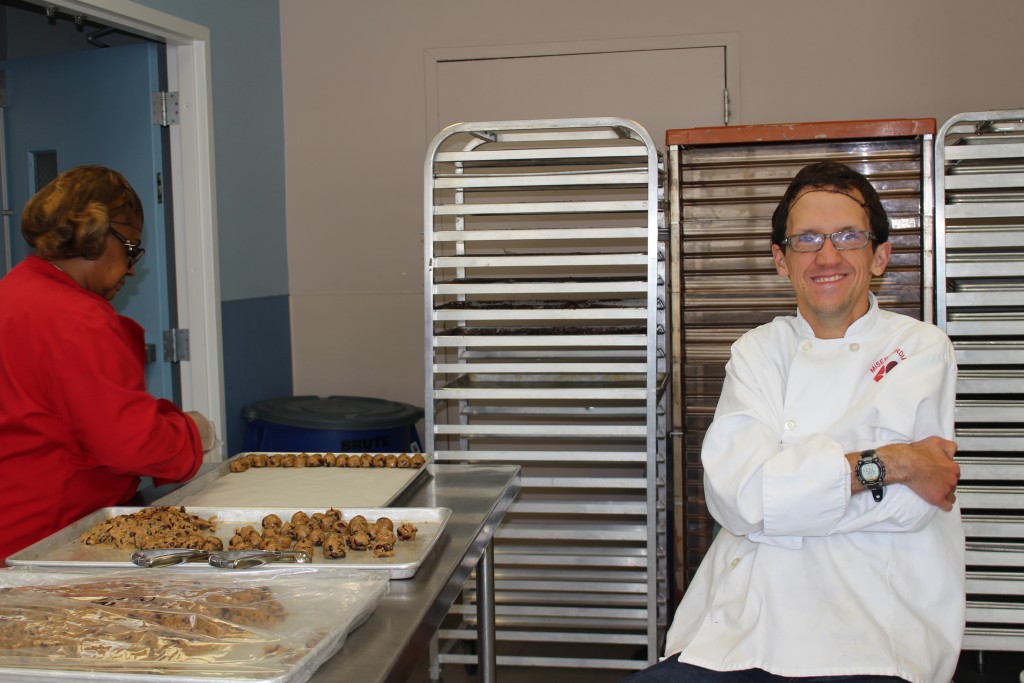 Alex, right, enjoys packaging fudge.
The Goods
The bakery's signature baked goods include hand-cut brownie hearts and Irish soda bread. For people who want to send gifts, Kordewick recommends the Original Gift Box which contains three loaves of their most popular sweet breads, eight chocolate chip cookies, eight oatmeal raisin cookies and one of their signature hand-cut brownie hearts.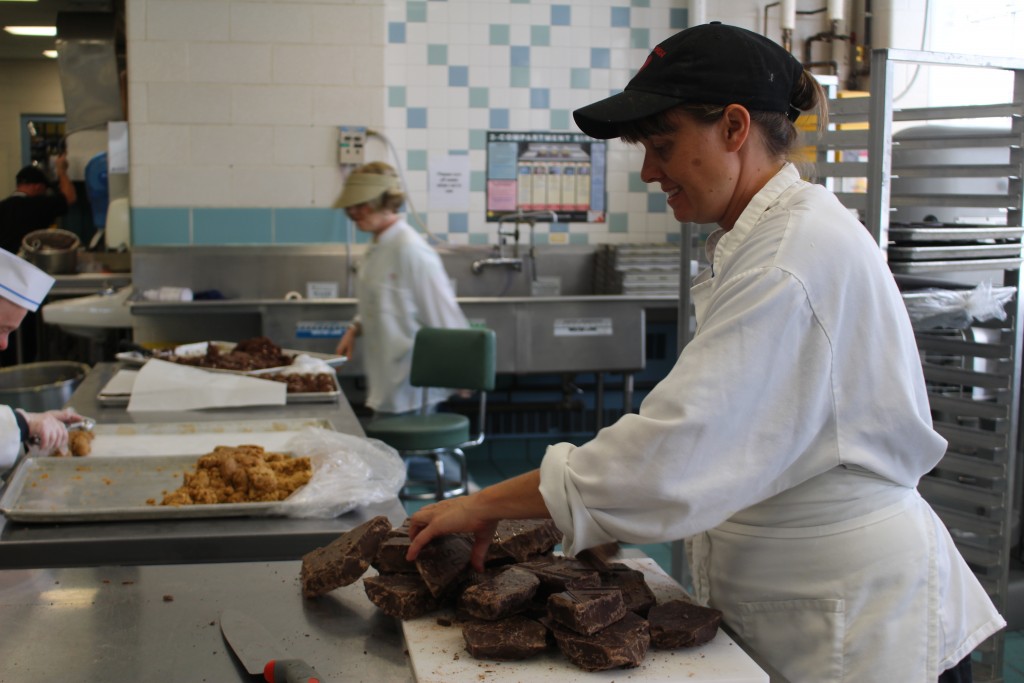 Beth Woytek, bakery supervisor, works on chopping chocolate for cookies.
Beth Woytek, bakery supervisor, develops many of the recipes. "I've worked at high-end and low-end restaurants and hotels but working in the Hearts & Flour Bakery has been the best experience ever – as a baking job and for my life," she said.
"The difference in coming here is that I'm baking with a purpose, and doing it in a way that means more than just serving someone crème brulee after dinner. It's doing something more – teaching residents, helping them grow their skills from scooping cookie dough to scaling out the ingredients," she said.
Misericordia Hearts & Flour Bakery shared their cookie of the month recipe with us: Double Chocolate Cookie Recipe!
For more information on Misericordia, visit www.misericordia.com or call 773-273-4759. Visit the Hearts & Flour Bakery on Facebook.
Latest posts by RecipeChatter
(see all)