I have more than a few memories of whipping up cake and brownie batter with my mom and then licking the spatula clean. Okay, no doctor would recommend doing this, but who doesn't enjoy a taste of that divine batter before it hits the oven? A taste of cake batter is great, but I just hate when all the batter is stuck to the sides and you end up washing lots of batter down the drain. Whether you like using a cake mix or you make all your cakes from scratch, these copycat cake recipes will keep you scraping for more batter.
Use one of the Get It Right Spatulas that AllFreeCopycatRecipes.com is giving away this month to ensure you get all the tasty batter into the final copycat cake recipe pan. Do not miss the bonus copycat recipes featured at the end of the post. Risotto, rice recipes and more!
Copycat Cake Recipes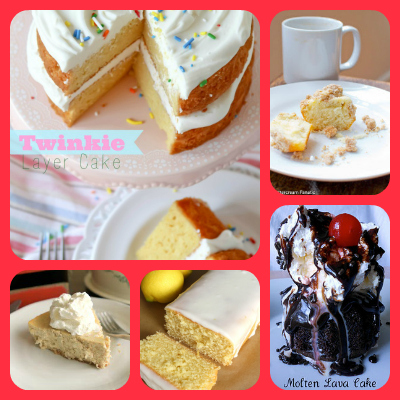 Starbucks Copycat Lemon Cake – Citrus perfection (pictured bottom middle)
Copycat of Cheesecake Factory's Banana Cream Cheesecake – Just like the restaurant version! (pictured bottom left)
Homemade Drake's Coffee Cakes – Cake for breakfast…why not? (pictured top right)
Chili's Inspired Hot Fudge Molten Lava Cake – It doesn't get better than chocolate lava flowing down your plate… (pictured bottom right)
Copycat Cracker Barrel Coke Cake – Everyone loves a poke cake
Tastes Like a Twinkie Layer Cake – How could this not taste amazing? (pictured top left)
Get It Right makes the perfect silicone spatula for baking. At AllFreeCopycatRecipes.com we are giving away a set of three colorful Get It Right silicone spatulas. Get It Right is rapidly expanding their list of products. They come in 10+ colors, including my personal favorite: the bacon-colored spatula. Their newest products include the skinny (get the last bits of food out of a tiny container), the mini, and the pro. Check out my GIR Spatula Review to learn more about this cool kitchen gadget. Enter to win now, often, and until the contest ends October 6, 2013. Start getting your entries going!

More Recipes to Make with the GIR Spatula
I love the Get It Right spatula because it can bend to your needs (like everyone should!), but it can also withstand extreme temperatures. Many stove-top recipes need lots of stirring at high temperatures. Before you ruin any spatulas, make sure you are using a spatula with the heat-resistance you need. These bonus copycat recipes are best made using a GIR Spatula.
Creamy Parmesan Risotto – Just like the risotto at Olive Garden!
Homemade Rice-A-Roni – Easy and Tasty
Copycat Panera Mac and Cheese – Cheesy perfection
Latest posts by AllFreeCopycatRecipes
(see all)