Eating healthy doesn't have to be difficult. Instead of making an elaborate four-course meal, you can whip up these easy healthy recipes in no time at all. We understand that finding a moment to spare is often impossible, especially when you're running errands or going to pick up the kids or working a little late. When you finally get home, the last thing you want to be doing is slaving away in the kitchen. With these 10 quick and easy recipes, you won't have to. So don't even think about ordering take-out because you need to make one of these healthy recipes instead.
The Beginner's Guide to Eating Healthy
Step 1: Find easy recipe.
Step 2: Buy ingredients, so you'll have them handy when you need to quickly whip up a meal.
Step 3: Wait for busy day and make one of these easy healthy recipes.
Step 4: Enjoy!
To help you out with step one, we've compiled a list of our top 10 favorite easy healthy recipes.
1. Dump-and-Go Healthy Chicken Enchilada Casserole – Do you have five minutes? If so, then you can make this four-ingredient, dump-and-go dinner.
2. Greek Yogurt Marinated Chicken – Serve this easy chicken recipe with a side of broccoli to make this a complete meal. Everyone will love this simple healthy dinner.
3. Crustless Skillet Pizza – When you learn how easy this recipe is to make, you'll never order pizza again. You can add whichever toppings you like best.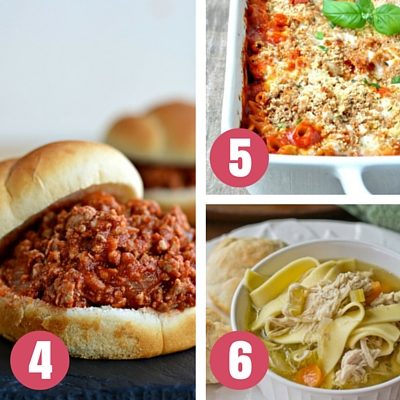 4. Sweet and Smoky Turkey Sloppy Joes – Grab a few napkins because you'll need them with this sloppy Joe recipe. If you have 1 pan and 35 minutes, then you can make this dinner recipe.
5. Dump-and-Bake Chicken Parmesan Casserole – Dump-and-bake recipes are the best! There's nothing better than throwing everything together, putting it in the oven, and coming back to a delicious dinner.
6. Amish-Style Chicken and Noodles – Make this classic chicken noodle soup when you need a comfort food favorite. We suggest you prepare this soup in the morning, so you can come home to a warm, homemade soup.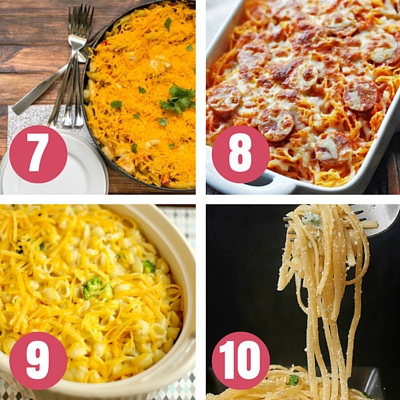 7. One-Skillet Wonder – You'll put a smile on everyone's face when you serve this One-Skillet Wonder. This dinner will even save you time washing dishes!
8. Spaghetti Squash Pizza Bake – Have you tried spaghetti squash before? If not, you're missing out. Spaghetti squash is a great way to cut down on carbs!
9. Secretly Healthy Mac and Cheese – You probably never thought that mac and cheese could be healthy. Well prepare to be surprised because this recipe is both nutritious and delicious.
10. Creamy Lemon and Garlic Pasta – Pasta is a go-to easy healthy dinner idea. Now you can make it a bit less boring with the delicious combination of lemon and garlic.
Latest posts by FaveHealthyRecipes
(see all)